The pandemic recovery window is already closing
Follow Us


This is Bloomberg Opinion Today, a back-to-school sale of Bloomberg Opinion's opinions. Sign up here.
Today's Agenda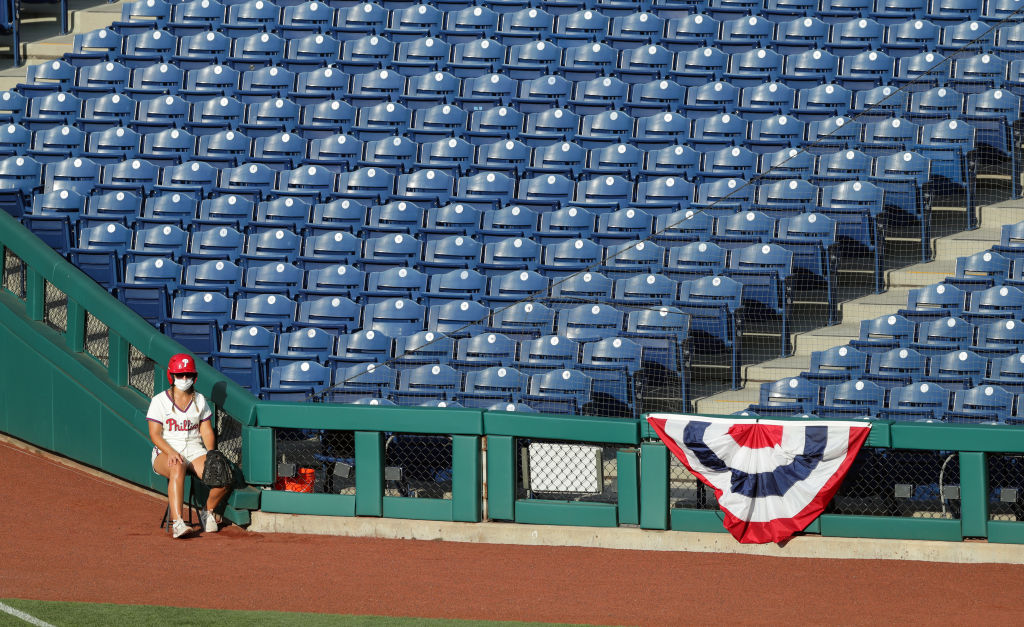 Photographer: Hunter Martin/Getty Images North America
False Coronavirus Spring Leads to Grim Coronavirus Summer
If you blinked, you might have missed baseball in 2020. Last Thursday was opening day for what was already going to be a pandemic-shortened season. Just a few days later, several Miami Marlins tested positive for coronavirus, throwing the rest of the season into doubt. Airlines, retailers and other businesses know the feeling.
It might have been possible, way back in early March, to imagine the worst of the Covid-19 pandemic would be over by late July, with the economy close to something like normality. There may even have been a brief window of opportunity between the surge in the U.S. Northeast and the "second wave" in the rest of the country. That's all gone now, certainly in the U.S., but also in spots in Europe and around the world. Air travel had started to rebound from the worst of its collapse, writes Chris Bryant, but that recovery is already in doubt. 
The thought of cramming into a metal tube with possibly infected strangers is only slightly less appealing than the thought of forcing kids, teachers and other workers back into those disease incubators we call schools. This is bad for a plethora of reasons we'll get into in the next section, but it also wreaks havoc with retailers' plans for back-to-school sales, writes Sarah Halzack. As you may have heard, retail had enough existential crises already. 
Less sympathetic, but not much less imperiled, is the price of oil. It had enjoyed a brief bump thanks to post-lockdown air and car travel returning, writes Julian Lee. As may happen with baseball, that ended quickly.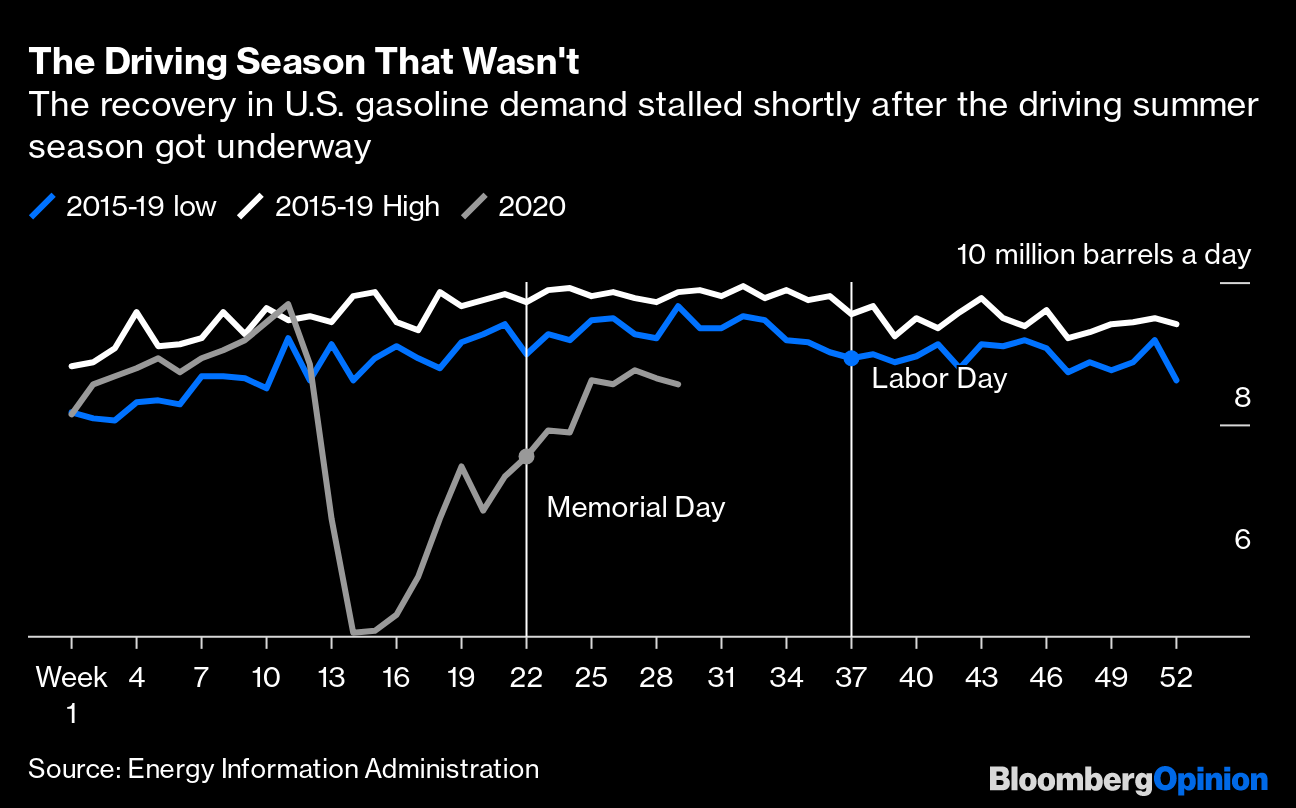 Cheaper oil and gasoline will at least be a minor salve to the pain of the people who still must drive to work and deliver stuff, pandemic or not. As David Fickling writes, these vulnerable gig workers were a key vector in spreading the coronavirus around the globe. They're still vulnerable, and their suffering doesn't have seasons.
School Daze
As we all know by now, and as Stephen Carter reminds us, online learning has been pretty terrible for parents and kids and worsened the festering inequalities that leave some people more susceptible to the coronavirus and other nightmares. But reasonable plans for getting kids and teachers back into schools safely are in short supply. Some desperate parents are considering quitting their jobs to home-school their kids as a result. This is a terrible idea for parents financially, warns Teresa Ghilarducci. 
Governments at every level should instead be providing more guidance — and funding, especially funding — for safe reopenings. Barring that, the federal government does have tools that would at least get broadband internet into more homes, lessening the unfairness of online learning, writes Bloomberg's editorial board. The FCC has balked at using them for fear they'll be abused. But that risk pales compared to what's being lost in the status quo.
Negative Yields Forever
One upside of all this economic uncertainty is that interest rates are boring through rock bottom. This makes borrowing easier for lots of us, including companies such as AT&T, which is wisely taking advantage by swapping out old, expensive debt for new, cheaper debt, notes Brian Chappatta.
Rates are so low that, adjusted for inflation, they're turning negative. That is far less great for lenders and savers and pension funds trying to keep up with price increases. But Brian Chappatta, in a second column, writes they'll get no sympathy from the Fed when it meets this week. Negative yields are here to stay, for better or worse.
Further Economic Bellwether Reading: Skyrocketing gold prices send troubling signals, and they may soon skyrocket even more. — John Authers 
Sinclair Hasn't Cleared the Air
By now, Fox News isn't sneaking up on anybody. If you tune in, especially in prime time, you know to expect hot conservative takes. Sinclair Broadcast Group is a far stealthier version of Fox News, except perhaps more biased in favor of President Donald Trump, embedded in run-of-the-mill local news broadcast to millions of Americans. It doesn't get noticed often, but it recently aroused an outcry when people learned it was about to air a wackadoodle theory that Anthony Fauci had somehow caused the coronavirus pandemic. As Tim O'Brien notes, this unwanted attention caused it to back down, at least partially, this one time. But there's no reason to doubt it will keep pumping toxins into the body politic.
Further 45th President Reading:
Telltale Charts
Working from home has its pros and cons, but one of the big cons is that it's making a lot of us feel terrible, writes Ben Schott.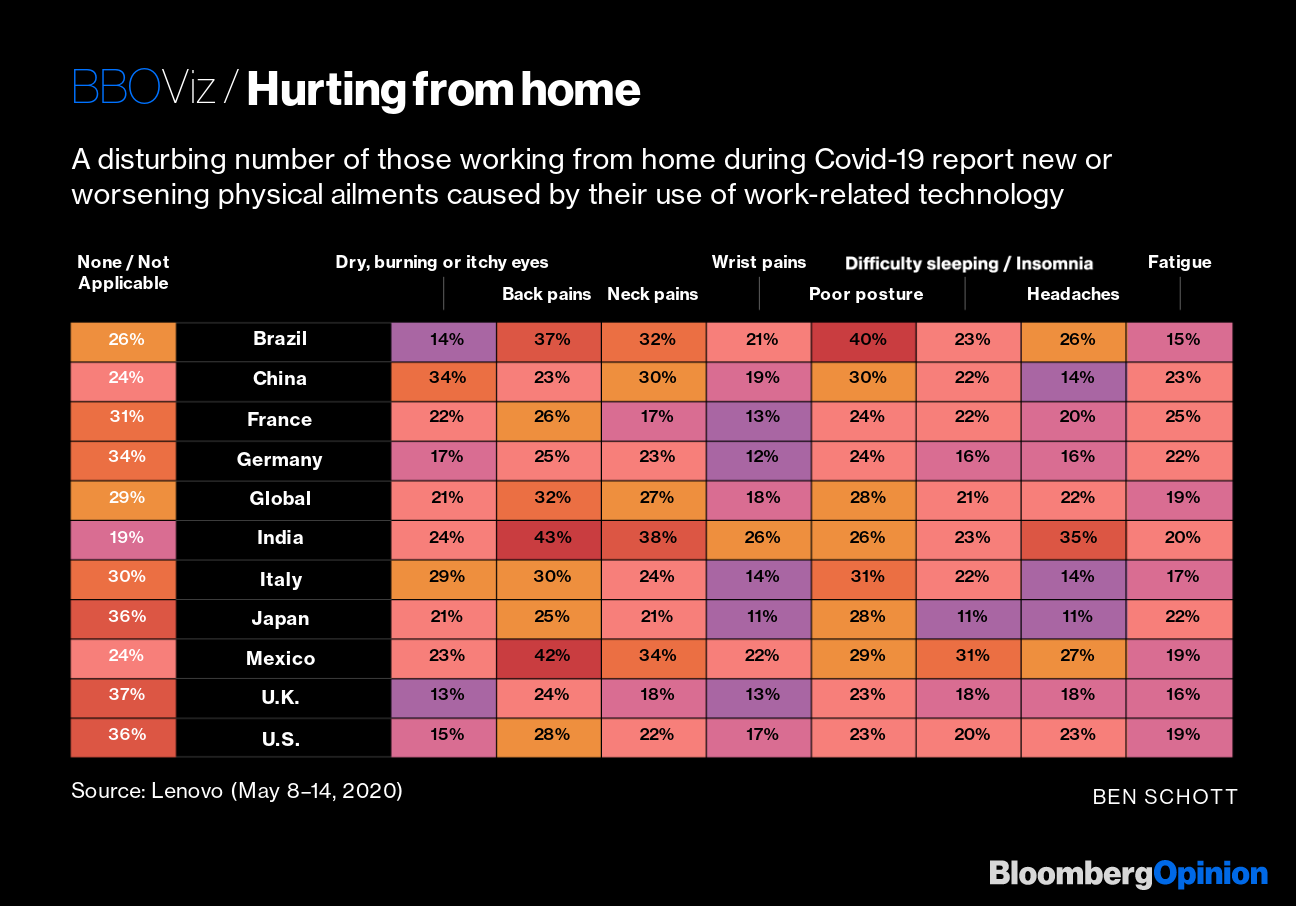 Further Reading
China wants to dominate world trade, not ideology. America has the tools to counter that, if only it would use them. — Robert D. Kaplan 
Boris Johnson is under pressure to sanction countries for bad behavior, but also desperately needs trade deals with said countries. — Martin Ivens 
Europe has revived the idea of a financial transaction tax, but it still lacks support or bite. — Lionel Laurent 
Population is set to shrink in several emerging economies, threatening their chance to become rich. — Mihir Sharma 
Here are some tips for coronavirus-proofing your retirement savings. — Anora Gaudiano 
ICYMI
Trump's national security adviser has Covid-19.
Thousands never got $600 stimulus checks, which Senate Republicans now want to reduce.
Goldman Sachs's CEO DJed a party in the Hamptons.
Kickers
One pandemic upside: unprecedented peace and quiet. (h/t Sarah Green Carmichael)
SpaceX satellites keep cluttering up images of comets and such. (h/t Mike Smedley)
Spies can eavesdrop just by watching a lightbulb vibrate from a distance.
Stephen Hawking suggested the universe has no beginning; scientists are starting to doubt that.
Note: Please send peace and quiet and complaints to Mark Gongloff at mgongloff1@bloomberg.net.
Sign up here and follow us on Twitter and Facebook.
Like Bloomberg Opinion Today?   Subscribe to Bloomberg All Access and get much, much more. You'll receive our unmatched global news coverage and two in-depth daily newsletters, The Bloomberg Open and The Bloomberg Close.
Before it's here, it's on the Bloomberg Terminal. Find out more about how the Terminal delivers information and analysis that financial professionals can't find anywhere else. Learn more.
You received this message because you are subscribed to Bloomberg's Bloomberg Opinion Today newsletter.
Unsubscribe | Bloomberg.com | Contact Us
Bloomberg L.P. 731 Lexington, New York, NY, 10022