The early winners and losers of the streaming wars
In October of last year, I wrote a preview of four new streaming services from some of the world's largest companies, the onset of the so-called streaming wars. That term has proven to be something of a misnomer since the biggest dispute is between streaming services and distributors like Roku and Amazon, not between individual services.
But now that all four services are out (five if you include Quibi), I thought it might be good to provide an early report card. The short version: While Disney has excelled, every other new service has glaring flaws.
Disney+
What's gone right: Walt Disney Co. executed a marketing plan that ensured everyone in the U.S. knew about the arrival of its new streaming service,  culminating in the biggest streaming launch on record. Buoyed by the only smash hit on any of these services ("The Mandalorian"), Disney added more than 50 million subscribers in just five months.
And while Disney+ hasn't had a new hit series since "The Mandalorian," it hasn't suffered mass defections either. Customers are more loyal to Disney+ than any streaming service other than Netflix (and Hulu), per Antenna. This chart shows the percentage of new customers who were still subscribing after six months.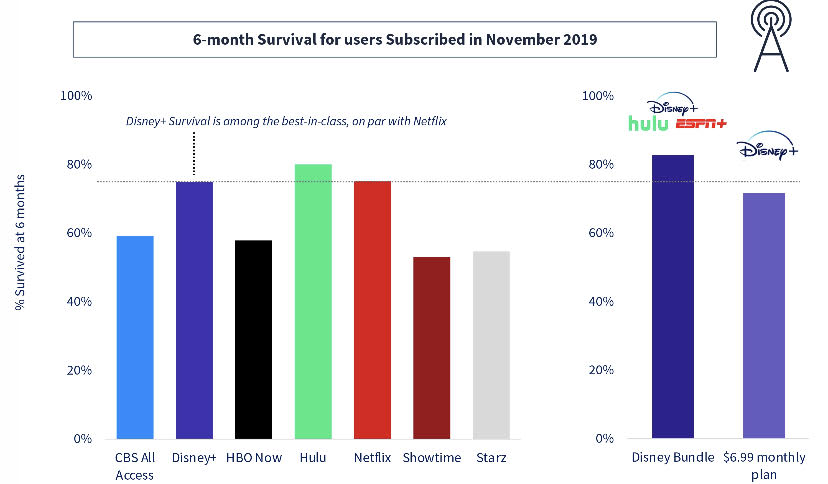 What's gone wrong: Not enough programming. Almost all the other Disney+ originals are just ads for Disney, and the coronavirus has paused production of Marvel series. Disney hasn't figured out what shows can lure more adults without being too mature for kids.
Verdict: Disney is now Netflix's biggest competitor if you include Hulu, which it also owns.
Apple TV+
What's gone right: A buzzy show out of the gate in "The Morning Show," endless cash reserves and a willingness to buy movies that studios can't release in theaters.
What's gone wrong: The service hasn't been able to sustain its early momentum, and is still looking for an actual programming strategy or target audience.
Verdict: When's the last time someone asked you about a show on Apple TV+? The service is something of an afterthought -- not as big a misfire as the Arcade gaming service or Apple News +, but not a clear hit like Apple Music. In the end, that may not matter all that much. Apple Inc.'s push into services looks good in an earnings release, where the company has reported booming revenue and proven to Wall Street that its growth isn't done.
HBO Max
What's gone right: HBO continues to deliver some of the best programs on TV ("Insecure," "I May Destroy You") while HBO Max has one of the best libraries of any service. HBO Max also had early success with original kids' programming.
What's gone wrong: HBO subscribers don't understand what the new service is, how much it costs or how to get it. New customers can't access HBO Max on the two most popular online TV distributors (Roku and Amazon). And the original series for adults are lackluster.
Verdict: As with Apple TV+, the success of HBO Max is a small concern in the larger framework of AT&T Inc. But unlike with Apple, AT&T needs HBO Max to succeed to justify spending $85 billion on Time Warner. So far, the results are underwhelming.
Peacock
What's gone right: It's free! People also like its live channels devoted to specific topics.
What's gone wrong: Peacock lost the Olympics as a big marketing platform, and has yet to release any originals that generated much attention.
Verdict: Incomplete. Comcast was very much relying on the Olympics as a marketing vehicle for this service, and just changed the leadership for NBCUniversal at the start of the year.
Quibi
Whats gone right: Quibi has gotten oodles of free press.
Whats gone wrong: It's for all the wrong reasons.
Verdict: Read this again.
A few other things to keep in mind:
Remember when all these services were supposed to hurt Netflix Inc.? The streaming service has added nearly 26 million customers since the start of the year, and is going to have its best year yet in terms of overall additions.
You don't need a new hit every day. Disney has held up just fine by having one show people really love (and a catalog parents need). HBO Max and Quibi flooded the market with new shows, and nary a one is a true smash. Copying Netflix is not a tried and true strategy. Creating a differentiated product is.
It's too early to call any of them an outright failure. Every service is one hit away from luring customers. Hulu was limping along for a few years there until it struck gold with "The Handmaid's Tale." Now its slate of originals is one of the deepest in the business.
See you again in a few months. – Lucas Shaw
The best of Screentime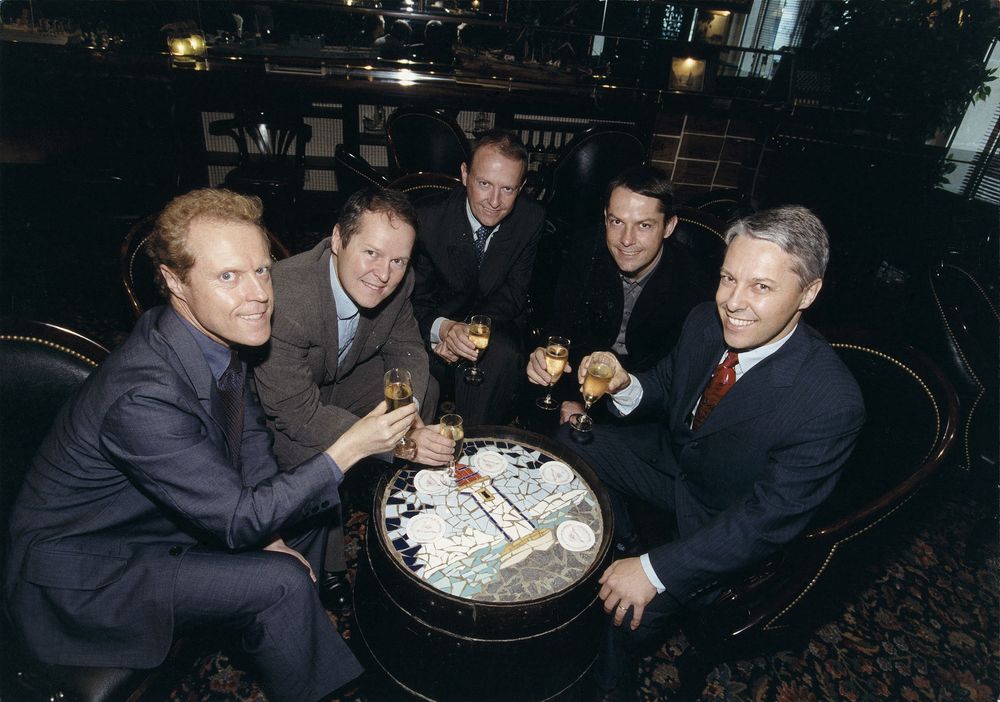 Chinese video giants Tencent and IQiyi face off against Netflix and Disney.
Unable to release movies in theaters, Bollywood studios are selling them to Netflix and Amazon.
A scandal at the publisher of video games "Assassin's Creed" and "Far Cry."
Movie studios are giving up on 2020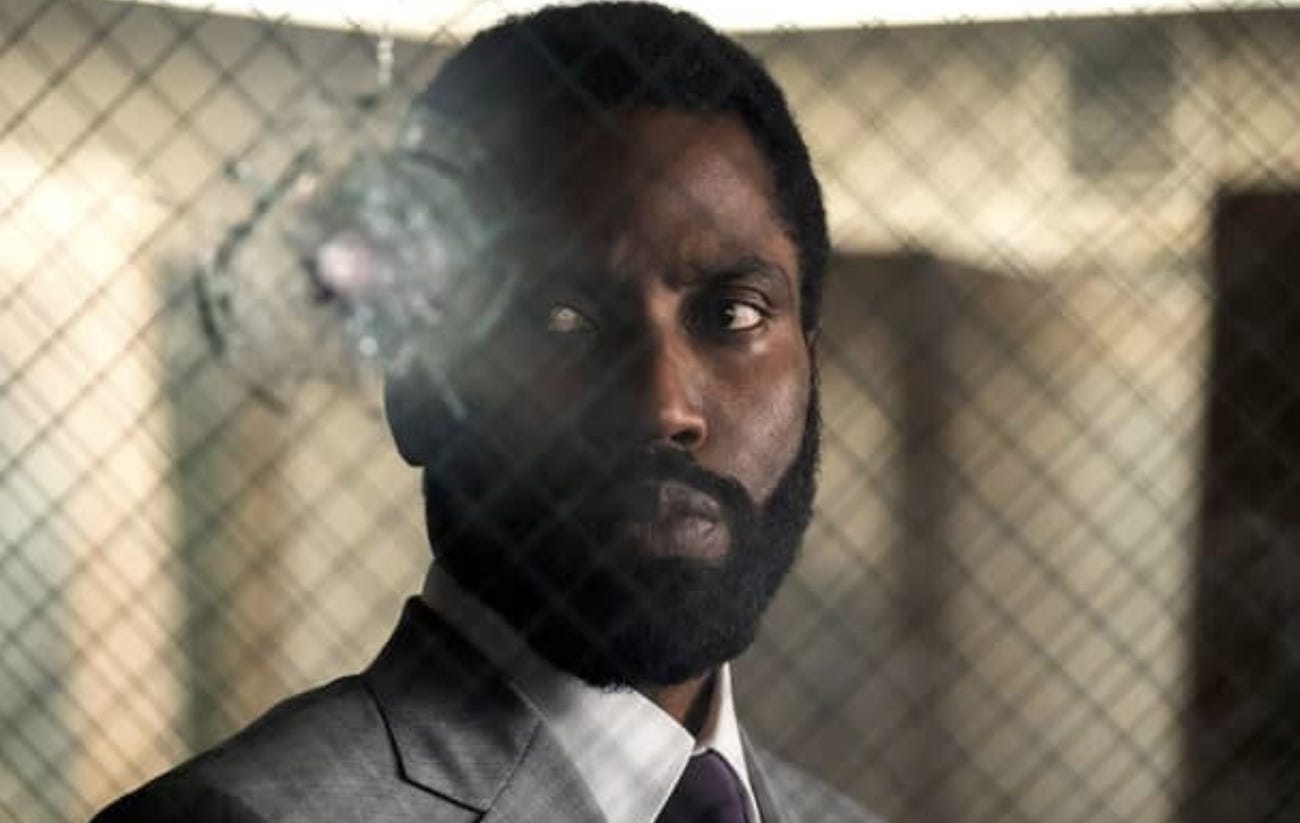 Source: Warner Bros.
It took the concert industry a few weeks to write off 2020. It's taken the movie industry a good while longer, but it's getting close.
Paramount delayed "A Quiet Place II" and "Top Gun: Maverick" to next year, clearing out its entire schedule until the middle of October. Disney took "Mulan" off the calendar, as did Warner Bros. with "Tenet."
Disney and Warner Bros. remain committed to releasing movies this year, but can't do so until theaters open up again. Theaters won't open nationwide until the virus is under control in most states, and who knows when that will happen. (Warner Bros. may release "Tenet" overseas first, buying a bit more time for the U.S. to figure out its virus strategy.)
But Universal, Paramount and Sony have now moved most of their big movies to next year.
This summer has exposed just how unprepared most of these companies are for the streaming world. Paramount sold a significant portion of its slate to Netflix and Amazon, picking short-term cash over building out its All Access service. Sony has delayed most of its movies, while also selling its Tom Hanks movie to Apple. 
Taylor Swift's first streaming smash
Swift's surprise album, "Folklore," will be the biggest album of the week. Songs occupy all 10 spots in the top 10 on Spotify's U.S. charts, and most of the 10 slots globally.
That's notable because while Swift sells out stadiums and moves records better than just about anyone, she hasn't been as popular on streaming as many of the biggest pop stars (e.g. Drake, Post Malone, Ed Sheeran). When Spotify released a list last year of the most-streamed songs of the decade, Swift wasn't on it.
TikTok Funds Creators
A whole bunch of TikTok news this week. The short-form video app created a $200 million fund to support creators, similar to past initiatives from YouTube. TikTok also announced a deal with two major music companies, clearing up some of its lingering problems concerning music rights.
But the big question facing TikTok, the existential quandary, is what to do about growing regulatory scrutiny. Some of its investors are pushing the company to sell a majority stake to U.S. stakeholders; that's one of many options being considered right now, according to Zheping Huang and Katie Roof.
The fall of a CBS showrunner
Peter Lenkov oversaw a mini-empire of TV shows for CBS that generated hundreds of millions of dollars. He was fired earlier this month for mistreating his employees, as exposed by Maureen Ryan, the foremost chronicler of workplace harassment in Hollywood. Lenkov was not accused of sexual abuse like long-time CBS chief Les Moonves, but a type of misbehavior (and mismanagement) that's far more common in Hollywood. Here's one very telling quote from actor Lucas Till:
"I've never worked this hard in my life, and I am fine with hard work. But the way Peter treats people is just unacceptable. I was suicidal that first year on the show, because of the way he made me feel."
R.I.P. Cable TV
That's the headline of the latest cover story in Variety, which features several network chiefs acknowledging that streaming is the future and their own networks are not the future.
Related reading: A note on the rise of advertising-supported online video from Wall Street analyst Michael Nathanson, which includes this ugly chart on the future of TV advertising: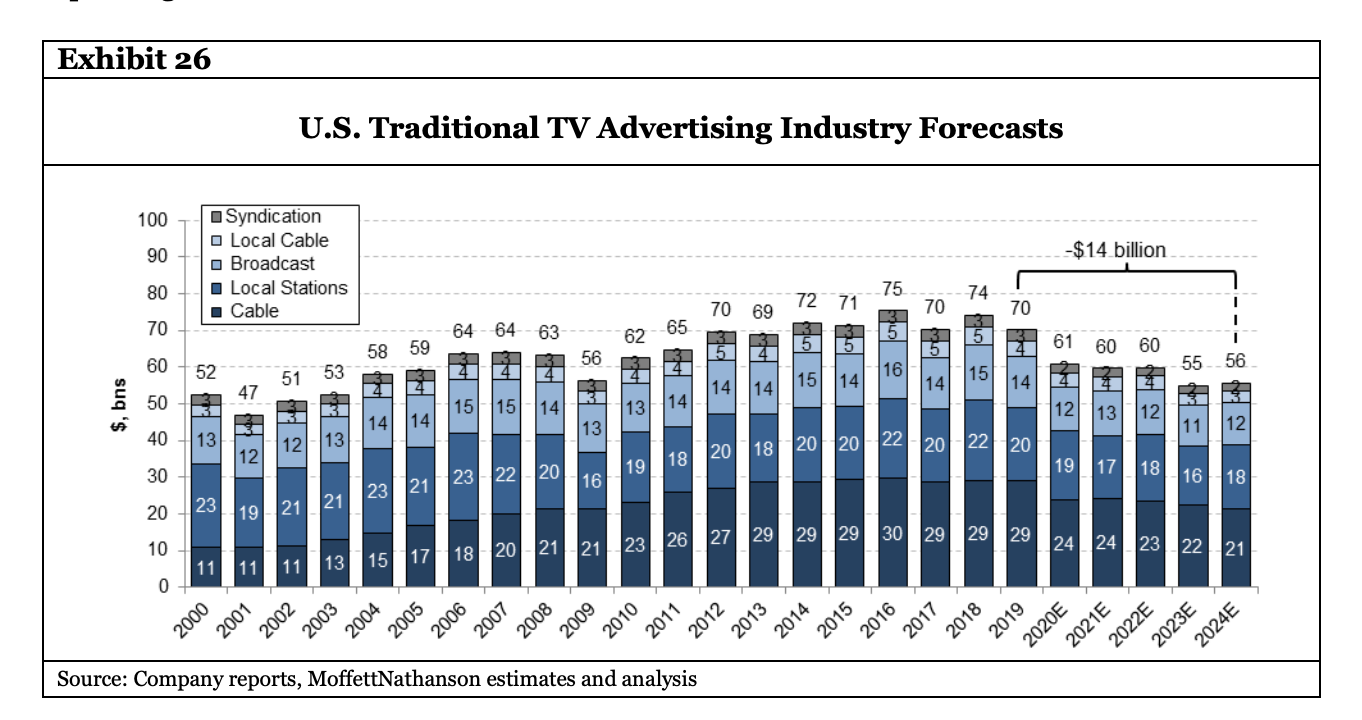 Quick hits
Las Vegas Sands, the world's largest casino company, reported a 97% drop in second quarter revenue.
Billboard ad sales have plummeted 40% with people off the roads.
The New York Times agreed to buy Serial Productions, which makes the "Serial" podcast. The Times also named a new CEO, Meredith Kopit Levien.
Weekly Playlist
Read: "Barcelona Days," the second novel from GQ correspondent Dan Riley, is the perfect summer read.
Watch: "Ford v Ferrari" on HBO and "Indian Matchmaking" on Netflix. Guilty pleasures, both. 
Listen: A new album from Flo Milli, a 20-year-old rapper from Mobile, Ala.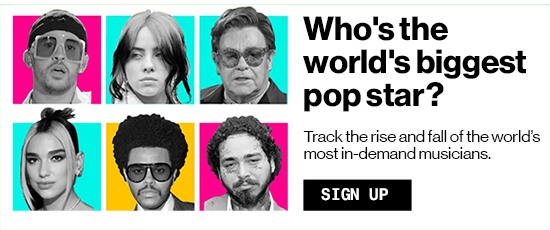 Before it's here, it's on the Bloomberg Terminal. Find out more about how the Terminal delivers information and analysis that financial professionals can't find anywhere else. Learn more.
You received this message because you are subscribed to Bloomberg's Screentime newsletter.
Unsubscribe | Bloomberg.com | Contact Us
Bloomberg L.P. 731 Lexington, New York, NY, 10022