Supply Lines: USMCA is born
President Donald Trump's replacement for the North American Free Trade Agreement went into force Wednesday, almost three years after negotiations began to establish a new framework for one of the world's largest commercial blocs.
After the long wait, and almost two years since a deal was initially reached, the start of the U.S.-Mexico-Canada Agreement, or USMCA, feels a bit anticlimactic. It's vastly overshadowed in the news by the global pandemic. Even with the new rules, the biggest concern in recent months focused on supply-chain interruptions due to the unsynchronized lockdowns in the three countries.
But trade experts expect a flurry of activity now that the USMCA is the law of the land for more than $1.2 trillion in annual trade. Overnight, the agreement raised the regional content requirement for cars to trade duty-free to 66% from 62.5%, eventually climbing to 75% in three years. The increase is a pillar of U.S. Trade Representative Robert Lighthizer's plan to bring production, and jobs, back to the U.S. Companies that can't yet meet the new threshold can request a temporary waiver.
Automakers also will need to get their workers' wages scrutinized by the U.S. Labor Department under a new rule published on June 29 to ensure that 40% of the work is coming from employees making an average $16 an hour to trade duty-free.
More broadly, exporters need to get new certification from U.S. Customs and Border Protection to confirm that products that they ship to America trade duty-free, even if they had certificates of origin under Nafta that were supposed to last through the end of this year, according to Adriana Ibarra-Fernandez, a trade lawyer with Baker McKenzie in Mexico City.
More Paperwork
"For the private sector, there's lots of work to do," Ibarra-Fernandez said in a forum hosted by the Atlantic Council on Tuesday. "Many companies are assuming this is just a continuation of Nafta. Each sector needs to be viewed as to whether the specific rule of origin for its product suffered any changes."
An additional challenge may come from complaints brought against Mexican factories. Tougher labor laws were a key demand of U.S. congressional Democrats. Some business groups had asked for a delay in implementing the new rules, given the chaos of the pandemic.
So in one sense, politicians who pride themselves on easing regulations have just dumped rolls of red tape on businesses at a very bad time.
In a hearing last month, Lighthizer said that one of the reasons he wanted the USMCA to go into effect on July 1 was to be able to begin pushing for enforcement through consultations and the revamped dispute-settlement system.
In a joint statement Wednesday, the U.S. Chamber of Commerce, the Canadian Chamber of Commerce and Mexico's Business Coordinating Council praised USMCA but acknowledged that auto makers "will have to comply with hundreds of pages of new regulations implementing strict content requirements" and other new rules that will present compliance difficulties.
"The Covid-19 pandemic and economic downturn may make adapting to these new rules even more challenging," the three groups said in a joint statement.
–Eric Martin in Washington 
Charted Territory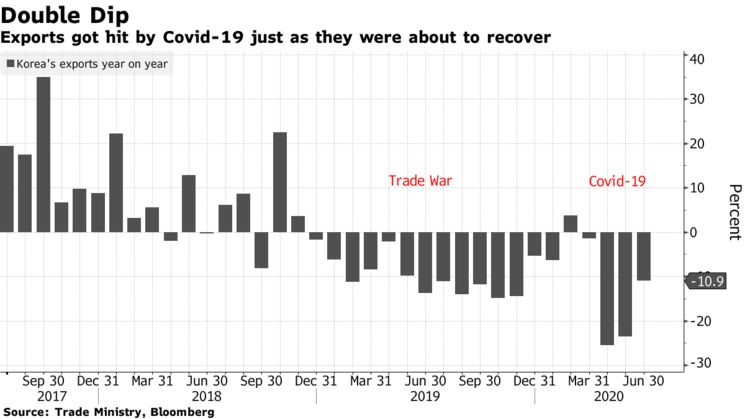 South Korea's exports fell at a slower pace in June as economies emerged from lockdowns, offering a sign that the worst of a slump in overseas demand may be over, though economists warned a recovery would likely be slow.
Today's Must Reads
On the Bloomberg Terminal
Like Supply Lines?
Don't keep it to yourself. Colleagues and friends can sign up here. We also publish Balance of Power, a daily briefing on the latest in global politics.
For even more:  Follow @economics on Twitter and subscribe to Bloomberg All Access for full global news coverage and two in-depth daily newsletters, The Bloomberg Open and The Bloomberg Close.
How are we doing? We want to hear what you think about this newsletter. Let our trade tsar know.
Before it's here, it's on the Bloomberg Terminal. Find out more about how the Terminal delivers information and analysis that financial professionals can't find anywhere else. Learn more.
You received this message because you are subscribed to Bloomberg's Supply Lines newsletter.
Unsubscribe | Bloomberg.com | Contact Us
Bloomberg L.P. 731 Lexington, New York, NY, 10022