Supply Lines: Mini drivers brace for Brexit
U.K. companies seeking to export their wares to the European Union will have to prove the origin of their goods to qualify for duty-free access under any potential post-Brexit free-trade agreement — a bureaucratic headache that's about to menace 150 billion pounds ($195 billion) of goods.
The end of Britain's customs union with the EU means U.K. firms will have to comply with so-called rules of origin to trade with nations in the region once the Brexit transition period ends on Dec. 31. Many have never had to identify the share of their exports that's produced domestically, and if they can't do it they'll have to pay tariffs on goods shipped to the EU.
In addition to a new mountain of paperwork, a certificate of origin costs about 30 pounds per shipment, according to the U.K. Trade Policy Observatory at the University of Sussex.
The threat posed by post-Brexit rules-of-origin restrictions to U.K. operations of automakers such as Nissan and Toyota, which collectively employ about 10,000 people, could be existential.
That's because trade agreements usually require about 55% of a product to be made locally in order to qualify for zero-tariff treatment. Yet only about 20% to 25% of the overall value of cars produced in the U.K. originates domestically, according to research group U.K. in a Changing Europe.
Sticker Shock
Even the famous Mini Cooper would be in the firing line. Only about 40% of the value of the parts in the iconic vehicle, made by BMW at its factory near Oxford, are produced in the U.K. Given that it would be virtually impossible for Mini to replace European-made parts with U.K.-made ones by Jan. 1, models exported from Britain would be on track to face a 10% tariff without an agreement on rules of origin.
"Price increases would be inevitable, with potential for reduced demand and therefore reduced production," Graham Biggs, a spokesman for BMW, said in an email.
Hopes hang on the U.K. and EU coming to an agreement on rules of origin in their ongoing trade talks. Britain has made an ambitious proposal that counts inputs as local provided they originate from the bloc or any country with which the U.K. or EU has a trade agreement.
Until white smoke emerges from the talks — which could extend into October with no guarantees of a deal — companies are left not knowing whether they'll have to reorganize their supply chains to be able to export to the EU tariff-free post-Brexit.

 —Joe Mayes and Siddharth Philip in London
Charted Territory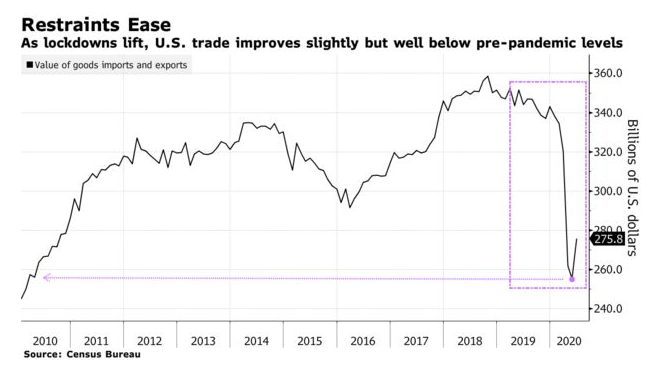 The U.S. merchandise trade gap unexpectedly narrowed in June for the first time in four months as exports jumped by the most on record, signaling the downdraft in global commerce is stabilizing. The overall balance shrank to $70.6 billion last month from $75.3 billion, Commerce Department data showed Wednesday.
Today's Must Reads
On the Bloomberg Terminal
Like Supply Lines?
Don't keep it to yourself. Colleagues and friends can sign up here. We also publish Balance of Power, a daily briefing on the latest in global politics.
For even more:  Follow @economics on Twitter and subscribe to Bloomberg All Access for full global news coverage and two in-depth daily newsletters, The Bloomberg Open and The Bloomberg Close.
How are we doing? We want to hear what you think about this newsletter. Let our trade tsar know.
Before it's here, it's on the Bloomberg Terminal. Find out more about how the Terminal delivers information and analysis that financial professionals can't find anywhere else. Learn more.
You received this message because you are subscribed to Bloomberg's Supply Lines newsletter.
Unsubscribe | Bloomberg.com | Contact Us
Bloomberg L.P. 731 Lexington, New York, NY, 10022