Supply Lines: ECB tallies the damage
With global trade enduring mounting damage from months of supply-chain disruptions, the European Central Bank has just come out with an estimate of how bad the fallout might be.
According to new research by ECB economists Simone Cigna and Lucia Quaglietti, the contraction in world commerce tied to the Covid-19 shock could be magnified by some 25% purely because of such logistical breakdowns.
"Covid-19 has struck value chains in Asia, Europe and the Americas, raising the risk of a domino effect with feedback loops that could amplify the collapse in global trade," the study said. It warned the disruption "may leave a longer-term legacy for global supply chains, leading to a review of production processes and substantial re-shoring."
Re-nationalization — bringing parts of production processes back home to reduce dependence on suppliers — has been a hot topic in places like the U.S. and Europe in recent months. But separate reports have already suggested it might actually hurt activity further.
According to the ECB researchers, a hit to demand is likely to affect economies higher up in the value chain, like the U.K., more negatively than those lower down, like Mexico.
That's because Mexico's production is particularly dependent on imported inputs, which are then re-exported as finished products. In contrast, countries positioned more upstream like Britain are likely to experience a negative impact on activity as exports decline more than imports.
"Traditional models assume that a country's imports depend on its domestic demand," according to the report. "However, in a world characterized by complex international supply chains, changes in demand in third countries are also an important determinant." 
For now, the ECB economists see bright spots ahead, as a pickup in global value chain activity could also amplify trade. The institution's most recent forecasts project world real imports (excluding the euro area) will decline at an unprecedented pace of around 13% in 2020 before returning to positive rates of growth of 8% next year and 4.3% in 2022.
—Carolynn Look in Frankfurt
Charted Territory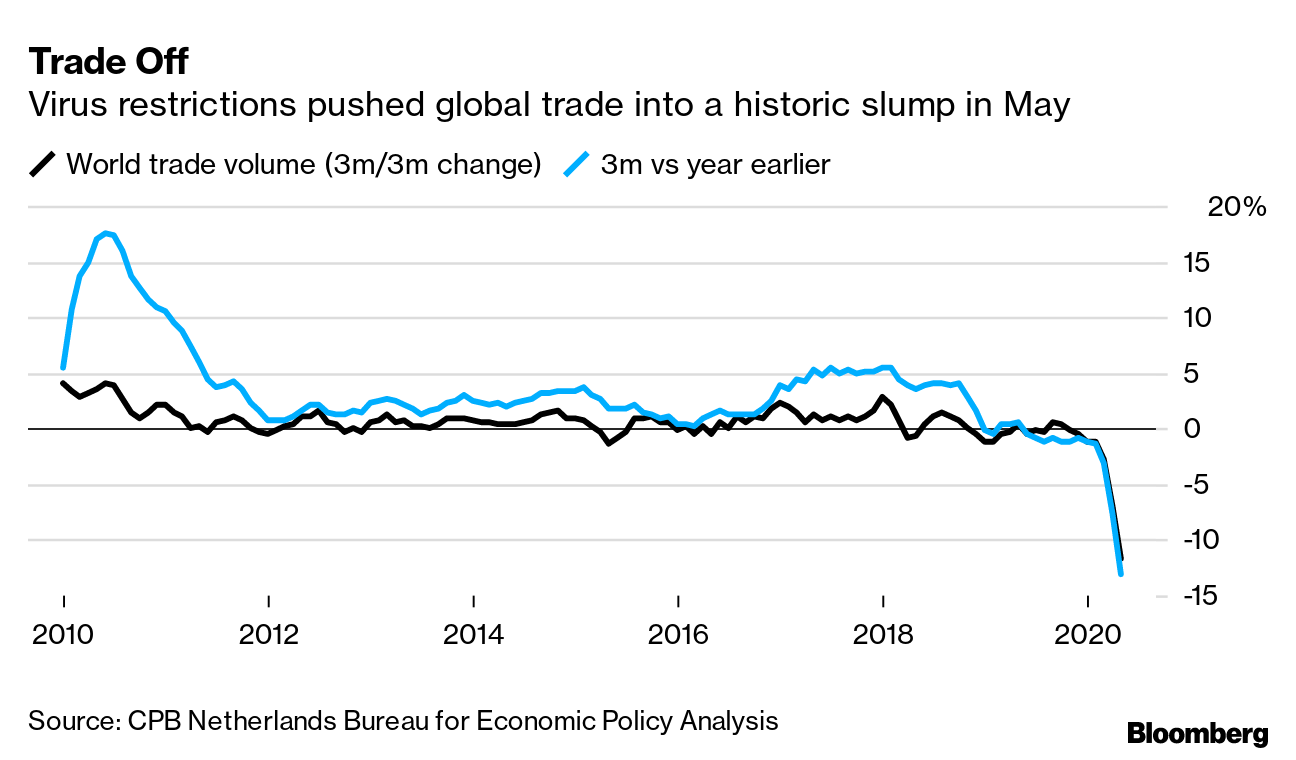 The global trade funk dragged into May, even as coronavirus lockdowns started easing. The contraction in trade volumes narrowed to 1.1% from April, but underlying momentum — measured by three-month figures — showed further weakness: There was a 12% decline from the previous period, and a 13% drop compared with a year earlier. 
Today's Must Reads
On the Bloomberg Terminal
Like Supply Lines?
Don't keep it to yourself. Colleagues and friends can sign up here. We also publish Balance of Power, a daily briefing on the latest in global politics.
For even more:  Follow @economics on Twitter and subscribe to Bloomberg All Access for full global news coverage and two in-depth daily newsletters, The Bloomberg Open and The Bloomberg Close.
How are we doing? We want to hear what you think about this newsletter. Let our trade tsar know.
Before it's here, it's on the Bloomberg Terminal. Find out more about how the Terminal delivers information and analysis that financial professionals can't find anywhere else. Learn more.
You received this message because you are subscribed to Bloomberg's Supply Lines newsletter.
Unsubscribe | Bloomberg.com | Contact Us
Bloomberg L.P. 731 Lexington, New York, NY, 10022