Supply Lines: An early WTO front-runner
Champagne receptions at lakeside villas. Rosé luncheons at the Intercontinental Hotel. Even during a pandemic, the feting of Geneva's trade diplomats continues apace.
Last week the eight candidates to lead the World Trade Organization wined and dined delegates and made their case for why they're the best person to right a sinking ship.
One by one the candidates explained their vision for fixing the WTO's moribund negotiating function, its paralyzed dispute settlement system and the various other ailments that have sidelined the world's foremost arbiter of trade.
At the close of the week there was a general perception that Kenya's nominee, Amina Mohamed, is the early front-runner.
She checks many of the boxes that delegates say they are looking for in the next WTO director-general, a job never held by a woman. She's a former WTO ambassador, an ex-trade minister and a previous chair of a WTO ministerial conference.
She's fluent in the WTO's procedures and legal texts and she personally helped negotiate the WTO's most recent package of multilateral agreements. She also hails from sub-Saharan Africa's third-largest economy, from a continent that's pursuing more free trade with the world.
Veto Power
But the first phase of the WTO's selection process isn't about deciding who has what it takes — it's more about deciding who doesn't. And the inside track might not be the best position to win a job that some capitals believe is better suited for a politically connected outsider.
Though each candidate will continue their campaigns until Sept. 7, some are destined for elimination. You can put Saudi Arabia and Moldova's candidates in that category, according to some delegates. While they both have impressive resumes, this probably isn't their moment to lead the WTO.
It remains unclear how many candidates will be bumped off in the first cut — some say three, some say four. At this point the viability of any candidate largely depends on their ability to avoid the dreaded veto.
The WTO operates on the basis of consensus and the final candidate should, in all likelihood, have the support of the WTO's 164 members. That's no easy feat because nations can withhold their support for any reason — like, say, a bitter economic fight between Japan and South Korea that dates back to World War II.
Entertaining trade diplomats at fancy Geneva restaurants like the legendary Perle du Lac certainly won't hurt a candidate's chances — but it won't do a thing to resolve epic geopolitical fights like Qatar's feud with Saudi Arabia and Egypt or Europe's lingering resentment over Brexit.
In short, the next phase of the WTO's director general race is all about power politics — and for some candidates, it's just not meant to be.
—Bryce Baschuk in Geneva
Charted Territory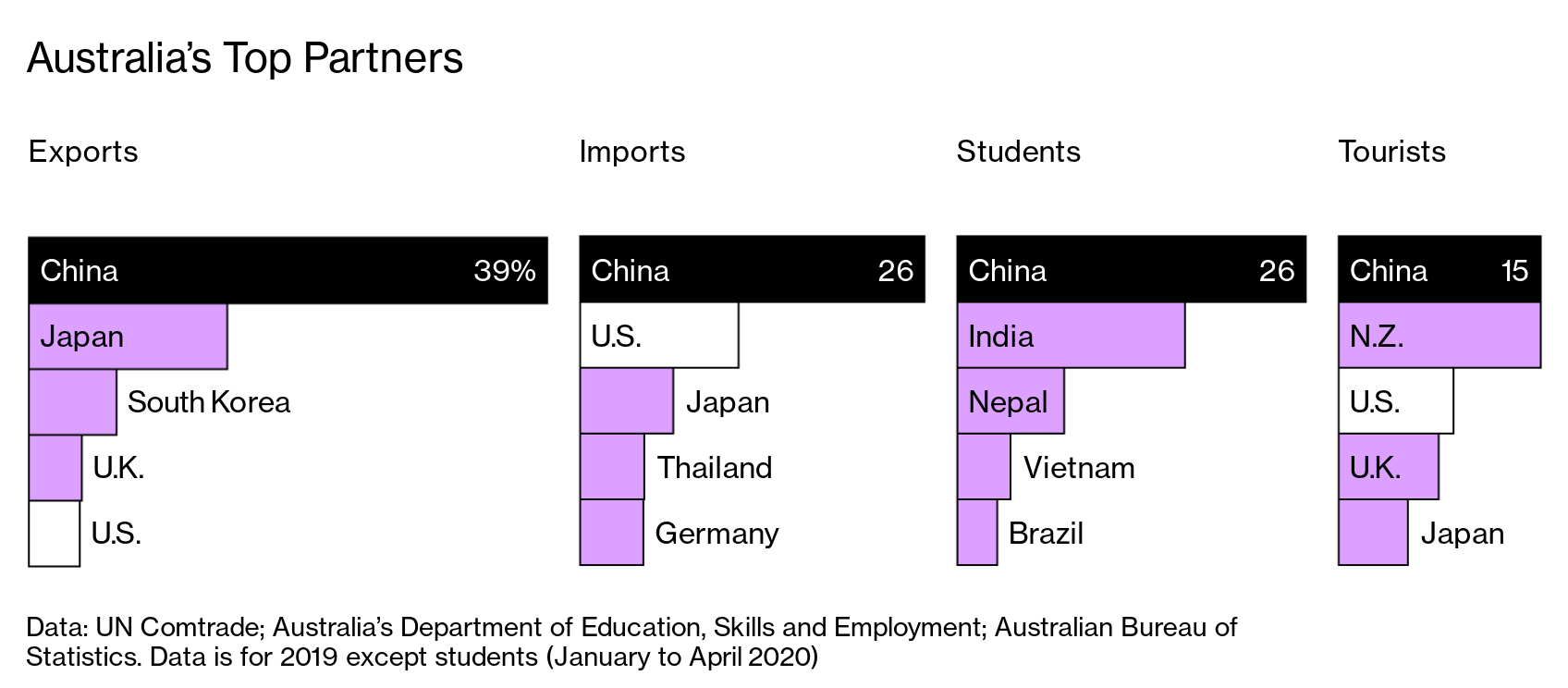 Despite their economic ties, Australia is increasingly willing to risk its diplomatic relationship with China to check Beijing's assertive foreign policy.
Today's Must Reads
On the Bloomberg Terminal
Like Supply Lines?
Don't keep it to yourself. Colleagues and friends can sign up here. We also publish Balance of Power, a daily briefing on the latest in global politics.
For even more:  Follow @economics on Twitter and subscribe to Bloomberg All Access for full global news coverage and two in-depth daily newsletters, The Bloomberg Open and The Bloomberg Close.
How are we doing? We want to hear what you think about this newsletter. Let our trade tsar know.
Before it's here, it's on the Bloomberg Terminal. Find out more about how the Terminal delivers information and analysis that financial professionals can't find anywhere else. Learn more.
You received this message because you are subscribed to Bloomberg's Supply Lines newsletter.
Unsubscribe | Bloomberg.com | Contact Us
Bloomberg L.P. 731 Lexington, New York, NY, 10022