Supply Lines: Another U.S.-China showdown
The World Trade Organization's next director general will have to walk a fine line between the U.S. and China at a moment when each are angling for greater control over the world's multilateral institutions.
So it's worth asking, what are the U.S. and China looking for in a WTO leader?
In June U.S. Trade Representative Robert Lighthizer established a three-part test for his ideal candidate: The person should understand the need for "fundamental" reform, recognize China has run afoul of the WTO and possess not a "whiff" of anti-Americanism in their background.
As for China, it's much less clear what kind of a candidate Beijing prefers, and that's by design.
China's ambassador to the WTO, Xiangchen Zhang, said this month that a key criteria for the next director general will be his or her "firm belief in the multilateral trading system with strong determination and adequate ability to bring WTO members together."
"We need someone who can shoulder pressure from the non-believers and march on," Zhang said during a webcast discussion hosted by the Washington-based Peterson Institute for International Economics.
So there are eight candidates gunning for the job and it's too soon to predict who will come out on top. But it is possible to game out a few scenarios where the contest becomes another diplomatic staredown between the U.S. and China as they decide who runs the world economy's tariff sheriff in Geneva.
Insider vs Outsider
For the U.S., one candidate who might pass the Lighthizer litmus test is Nigeria's nominee Ngozi Okonjo-Iweala. The former finance minister has ironclad reform credentials and authored a pair of books about her sometimes harrowing experience revamping Nigeria's oil-dependent economy.
She supports negotiations aimed at establishing new WTO rules on industrial subsidies, which is a key target in Lighthizer's effort to curb China's massive outlays. She has lived in America — well, in Washington anyway — during her tenure at the World Bank. If she's viewed as a proxy for the U.S., Beijing might stonewall her candidacy.
China, meanwhile, is holding its cards close to avoid instant American opposition to its preferred candidate. But it's not a stretch to match Zhang's diss of WTO non-believers with the qualifications of Kenya's Amina Mohamed.
Mohamed is a card-carrying WTO insider, having served as a trade delegate in the 2000s. She has chaired the WTO general council, dispute settlement body and trade policy review body. She has headed up a WTO ministerial conference, a summit held every two years.
But her WTO credentials could be a negative for the Trump administration because it symbolizes the perpetuation of a system that the U.S. argues is broken. Furthermore, Mohamed has equivocated on the issue of China's development status and the U.S.-China trade conflict in general.
Of course, this is just the first lap of the race and speculation remains rife about who will support whom. There's always another possibility that the Mohamed/Okonjo-Iweala rivalry could torpedo both their candidacies and open a path for another nominee who can somehow thread the U.S.-China needle. At this stage, anything could happen.
—Bryce Baschuk in Geneva
Charted Territory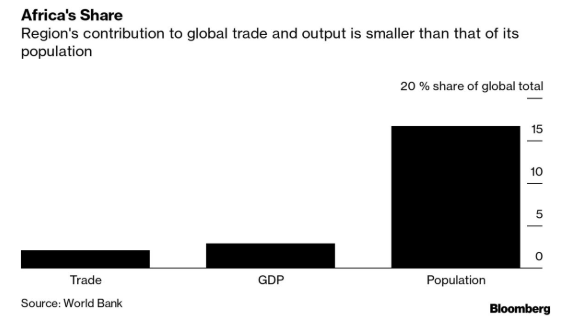 An Africa-wide free-trade pact could bolster the region's income by $450 billion and lift 30 million people out of extreme poverty by 2035, if accompanied by significant policy reforms and trade-facilitation measures, according to a new World Bank report. 
Today's Must Reads
On the Bloomberg Terminal
Like Supply Lines?
Don't keep it to yourself. Colleagues and friends can sign up here. We also publish Balance of Power, a daily briefing on the latest in global politics.
For even more:  Follow @economics on Twitter and subscribe to Bloomberg All Access for full global news coverage and two in-depth daily newsletters, The Bloomberg Open and The Bloomberg Close.
How are we doing? We want to hear what you think about this newsletter. Let our trade tsar know.
Before it's here, it's on the Bloomberg Terminal. Find out more about how the Terminal delivers information and analysis that financial professionals can't find anywhere else. Learn more.
You received this message because you are subscribed to Bloomberg's Supply Lines newsletter.
Unsubscribe | Bloomberg.com | Contact Us
Bloomberg L.P. 731 Lexington, New York, NY, 10022