Republicans have to stop channeling Herbert Hoover
Follow Us


This is Bloomberg Opinion Today, a Works Progress Administration of Bloomberg Opinion's opinions. Sign up here.
Today's Agenda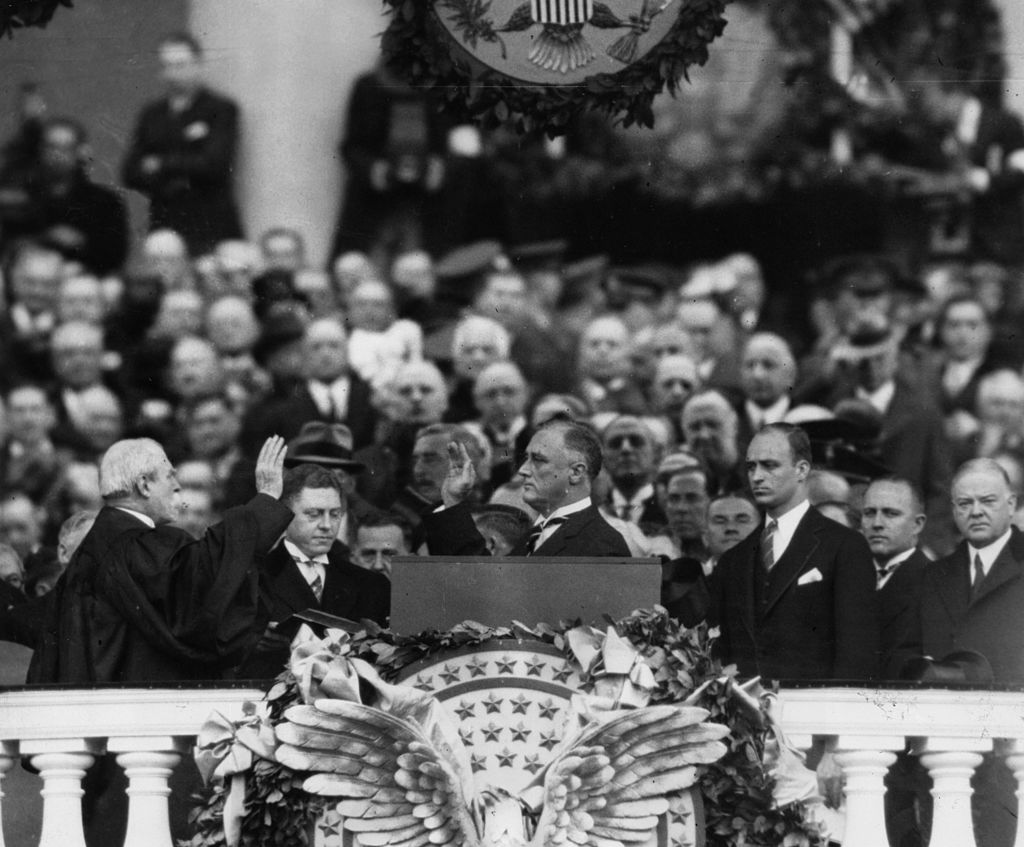 Photographer: Keystone/Hulton Archive
Falling Off the Fiscal Cliff
Herbert Hoover has a reputation as the president who snoozed while the Great Depression raged. It's unfair; he actually tried to fight the Depression. But he was arguably too ideological and cautious, losing the economy, the presidency and history's favor as a result. President Donald Trump and Senate Republicans seem to be following in Hoover's footsteps.
To their credit, they've already thrown much more money at the depression-esque crisis caused by the Covid-19 pandemic than Hoover would probably have stomached. But with the economy teetering on the edge again and needing more relief, they're going wobbly. They dallied until almost the moment when earlier stimulus was to start expiring, threatening a tumble down a fiscal cliff. And now ideological differences have rendered them unable to agree on anything, writes Jonathan Bernstein. They should know they face a Hoover-size disaster in November if they let the economy fall, but they seem frozen in place.
And the package they might end up settling on will be basically more of the same stuff from the first stimulus rounds, only in much smaller portions. This isn't cutting it. With the pandemic possibly sticking around well into 2021, the economy needs a much bolder vision. Nir Kaissar and Tim O'Brien propose a federal jobs program, employing millions of Americans at a living wage for as long as it takes. We could even hire people to help fight the pandemic, in one of those two-birds, one-stone deals.
The previously bulletproof stock market is signaling its worry about the situation, warns John Authers. It had priced in a V-shaped recovery that now looks like a Nike swoosh at best. Inflation-adjusted Treasury yields have fallen into negative territory. Gold is nearing all-time highs, helped by a rush of "smart" money, writes Mark Gilbert. It would all feel painfully familiar to Herbert Hoover.
Further Bold Economic Thinking Reading: Inflation is the wrong metric for the Fed to target; it should aim for 4% unemployment instead. — Narayana Kocherlakota
Britain's Royal Pains
Across the Pond, the U.K. is also struggling with the pandemic and recession, with an extra dollop of Cold War hardship for good measure. These stresses are weighing on two iconic British institutions: the London Tube and the English Premiere League.
Like other public-transit systems lately, London's is suffering from the heebie-jeebies we all now feel when imagining cramming onto a train car with disease-oozing strangers. This was what we commuters simply called "Tuesday" in the Before Times. Now it's unthinkable for many. But the Tube's recovery will dictate London's recovery, writes Therese Raphael, and the U.K.'s recovery in turn. Thus Boris Johnson will probably have to bail it out, whether he wants to or not.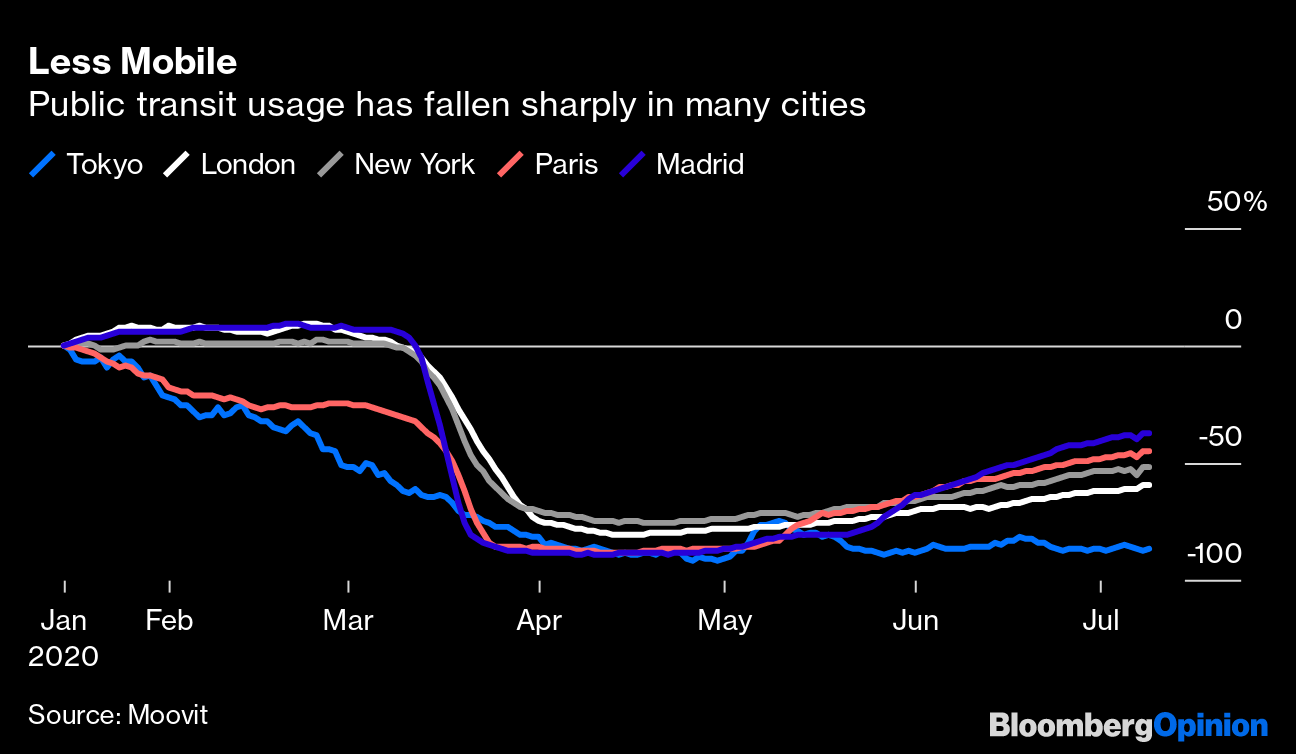 Meanwile, the EPL is playing football again (the Tottenham Hotspur kind, not the Alabama kind). But the stands are empty. And China is reportedly relegating EPL match broadcasts to unpopular TV channels, threatening a big new revenue stream, writes Alex Webb. It's also building up a domestic league, costing British clubs financing and a big new fan base. At least England still has Harry Kane.
Coal Won't Help Your Economy
Sure things are tough all over. And desperate times call for desperate measures. But times aren't so desperate that we need to sacrifice our future. For example, to stoke their economic engines, China and Japan are both throwing money at coal-fired power projects. This is short-sighted, writes Bloomberg's editorial board, and overlooks the fact that renewable-energy investments are not just cleaner but also cheaper. Supporting them would boost both nations' global credibility and future viability.
Further Reading
Giving law enforcement encryption backdoors won't help fight crime but will make us more vulnerable to cyberattacks. — Michael Chertoff
We just avoided a disaster involving an Iranian airliner over Syria. — Bobby Ghosh
Industrial companies don't always like what they see, but at least they have more visibility on the future now. — Brooke Sutherland
Election models drastically understate Trump's odds of winning re-election. — Aaron Brown
Using poker skills can make investing less like gambling, ironically. — Joe Nocera
Even when paying $3.9 billion to settle the 1MDB scandal, Goldman Sachs finds a way to be Goldman Sachs. — Matt Levine
Scams are flourishing in the pandemic. Here are several common ones and how to avoid them. — Alexis Leondis
ICYMI
China ordered the U.S. to close its Chengdu consulate.
Texas mask skeptics are unswayed by Covid-19's spread.
Billionaire erases student debt, creates social experiment.
Kickers
Why have we forgotten the Eastland disaster, which killed more people than the Titanic sinking?
The Pentagon's UFO unit will make some findings public.
Cave discoveries suggest humans reached the Americas much earlier than we thought.
Remembering 2008, the last summer of blockbuster comedies.
Note: Please send UFOs and complaints to Mark Gongloff at mgongloff1@bloomberg.net.
Sign up here and follow us on Twitter and Facebook.
Like Bloomberg Opinion Today?   Subscribe to Bloomberg All Access and get much, much more. You'll receive our unmatched global news coverage and two in-depth daily newsletters, The Bloomberg Open and The Bloomberg Close.
Before it's here, it's on the Bloomberg Terminal. Find out more about how the Terminal delivers information and analysis that financial professionals can't find anywhere else. Learn more.
You received this message because you are subscribed to Bloomberg's Bloomberg Opinion Today newsletter.
Unsubscribe | Bloomberg.com | Contact Us
Bloomberg L.P. 731 Lexington, New York, NY, 10022