Navigator: How to go on vacation
In April, an Australian family simulated a 15-hour flight in their living room. The mom live-tweeted as they went through fake TSA, checked their fake luggage, and settled into their lounge-chair seats. They printed out in-flight menus and boarding passes, tracked their hypothetical progress on a flight map, and served airplane food in trays. It was an extremely elaborate ruse but no one was fooled: real vacation was cancelled this year.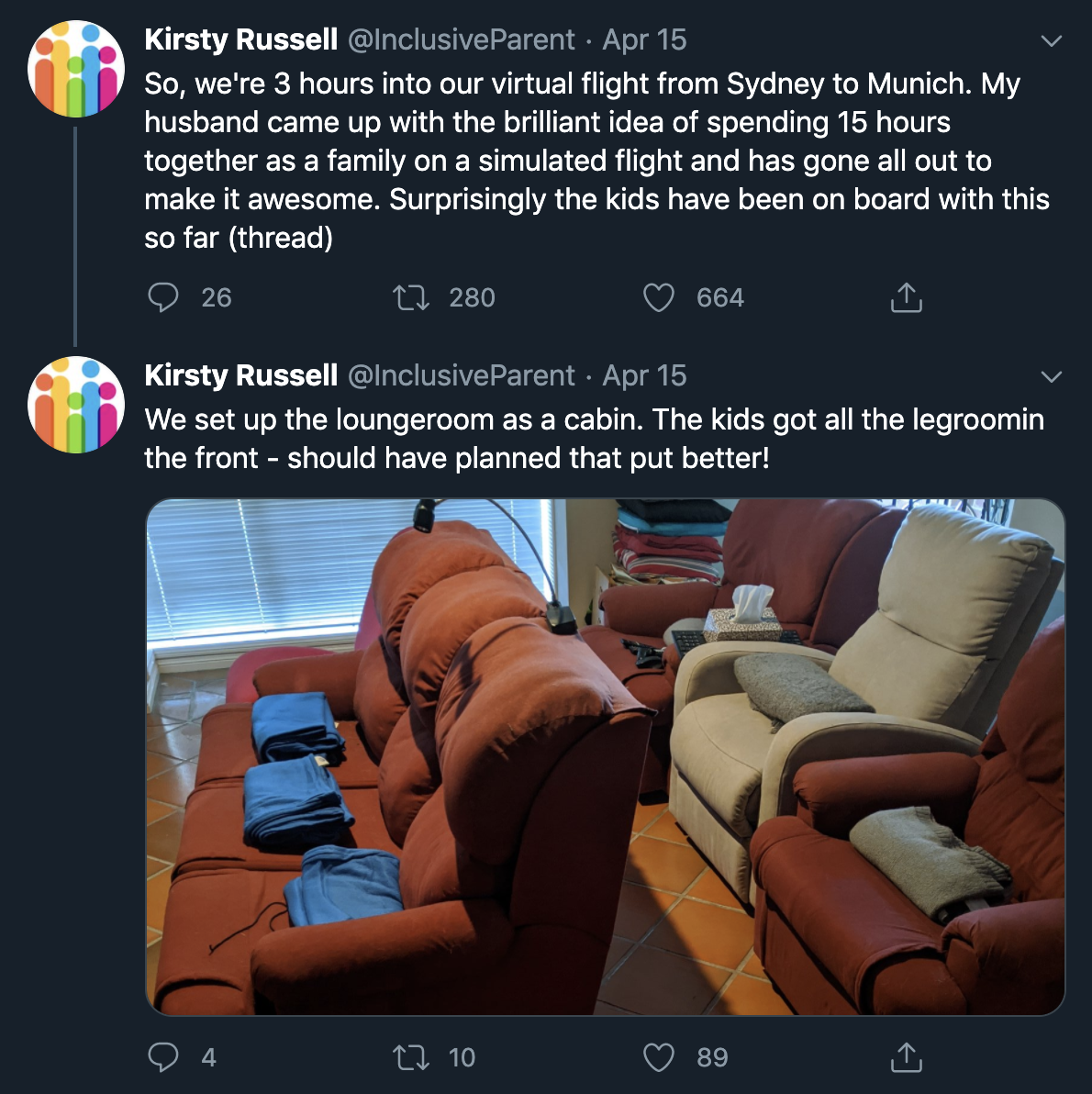 The pandemic – and some governments' botched handling of it – has plunged people into grief, uncertainty, unemployment, anxiety, and financial crisis. Sightseeing spots are restricted, real airplanes are getting more crowded, borders are closed. (Beach towns are as bummed as you: Tourism experts estimate a 45% drop in U.S. travel business, or $651 billion in lost revenue this year.)
But the same stressors that make vacationing seem so incongruous with the current moment and so difficult to actually execute are also reasons that everyone should try to find some way to take a break. Staycations are probably the lowest risk – sit on a bench all afternoon (masked) listening to people's conversations, learn to cook salmon, watch a movie as soon as you wake up just because you can! Microwave fake airplane food and sleep sitting up in your living room, if that's what sparks joy.
What if you're interested in physically leaving the house? Experts recommend camping for its low-risk outdoor setting, and after a trek through California's Desolation Wilderness with a group of friends (paired up in tents based on quarantine pod) I can attest to the benefits. Maybe we are already a bit too preoccupied with everyday survival, but there's something freeing about carrying your bed on your back and cooking mushy caloric food that could be stolen by a bear if you're not careful. Wrenching back control over the few things you can right now, like basic sustenance, feels good. So does seeing stars, jumping in lakes and listening to frogs. 
Traveling further afield might feel more like a high-stakes mission than a vacation — going home to visit family, for example, require sussing out which airlines are still keeping middle seats empty, arming yourself with a face shield, and finding a room to isolate in once you land. It can be nerve-wracking, rather than relaxing, even with a solid plan and the promise of an overdue reunion. 
Here are my fellow writers Feargus and Linda about what Mission: Vacation might look like this year. 
Feargus O'Sullivan, on endless vacation:
As Europe's internal quarantine measures ease this month, it looks like the continent's summer vacation season won't be completely cancelled after all. Many of 2020's summer travelers may still need a break in a different form than usual – traveling for far longer, without any near-term plans to hurry back. Six of my friends in London left the city for other parts of Europe this week, to visit friends and family, or to occupy long-term vacation rentals. None of them has yet booked a return ticket.
Why? Partly because they can. The pandemic has switched many to home-working, lowering the bar for taking up digital nomadism. Fewer people need to be near the office to keep their jobs. Meanwhile, traveling in an era of infection risk and social distancing is slower and more stressful. At a time when a bustling day of sightseeing may be risky to your health, why not stay as long as possible at your destination, and relax with a calm schedule of work mixed with hanging out with friends, hitting the beach and maybe the odd al fresco drink or meal.
Linda Poon, on the aspirational vacation:
My trick to enjoying solo travel has always been to get lost in a new, fast-paced city surrounded by strangers, as far away from home as possible: Chicago, Toronto, even Tokyo were all on my list for this year. But instead, I find myself looking for adventure in the wilderness. I want to be somewhere secluded, but not so much that food and other amenities are out of reach. The destination would ideally be far enough to make a decent road trip out of it, but also close by to avoid using public bathrooms in highway rest stops. And I'm hoping to book a cabin that's popular enough to signify that it's a safe and reliable place to stay, but not so popular that I risk breathing in residual air from the dozens of guests before me.
Unfortunately, many of the rental homes boasting "the perfect tiny getaway," "cozy cabin," and  "PROFESSIONAL CLEANING" on Airbnb have long been snagged, suggesting every other stir-crazy person in the D.C.-Maryland-Virginia region probably has the same idea in mind. Will I make it to a cabin? Time will tell. But I've taken the most important step just in time for this newsletter: I've put in for a week off from work. 
Readers: How are you taking time off? Reply to this email and let us know. We may feature it in an upcoming Navigator. 
— Sarah Holder
What we're writing:
"On the legal side of things, it's just blatantly unlawful": Trump's attempt to target trans homeless people ¤ The cashless revolution will have casualties ¤ One transit agency to rule them all: the Bay Area's wish ¤ Cracking the code to the suburbs ¤ Understanding the roots of the U.S.'s homelessness crisis ¤ Countdown to the 15-minute city ¤ Where racism is a public health crisis ¤ Designing for whatever comes next ¤ Brussels is full of whimsical residential buildings, "sometimes elaborately decorated to the point of creepiness." ¤ RIP Segways. ¤ Quickly, cheaply built Greek apartments, called polikatoikias, are happy accidents. ¤ Barcelona is seizing vacant apartments ¤
What we're reading:
The lucky Taiwanese students who got to play fake vacation in an actual plane (Time) ¤ "Like a nanny share on steroids": inequity in education could grow if families hire in-house teachers (Washington Post) ¤ Take a moment to look at this nice timber skyscraper (The Conversation) ¤ What is this, a Facebook group for... ants? (Washington Post) ¤ Remembering Minitel, the sexy, socialist online network of 1980s France (Study Hall) ¤ Teachers fear a return to the classroom: "I love, love my job. But this? It's not worth my life." (Buzzfeed News) ¤ The hidden toll of California's Black exodus (CalMatters) ¤ "Pandemics are complicated, but pandemic economics is simple. Get families cash, or people will go hungry and lose their home." (The Atlantic) ¤ Where are all the coins?! (San Francisco Chronicle) ¤ A coronavirus diagnosis; a descent into madness (London Review of Books) ¤ A teenage girl didn't do her online classwork. Then, the police got involved. (ProPublica) ¤ Tulsa searches for the remains of Black Tulsans who were killed in the city's 1921 massacre. (New York Times) ¤
Views from the ground: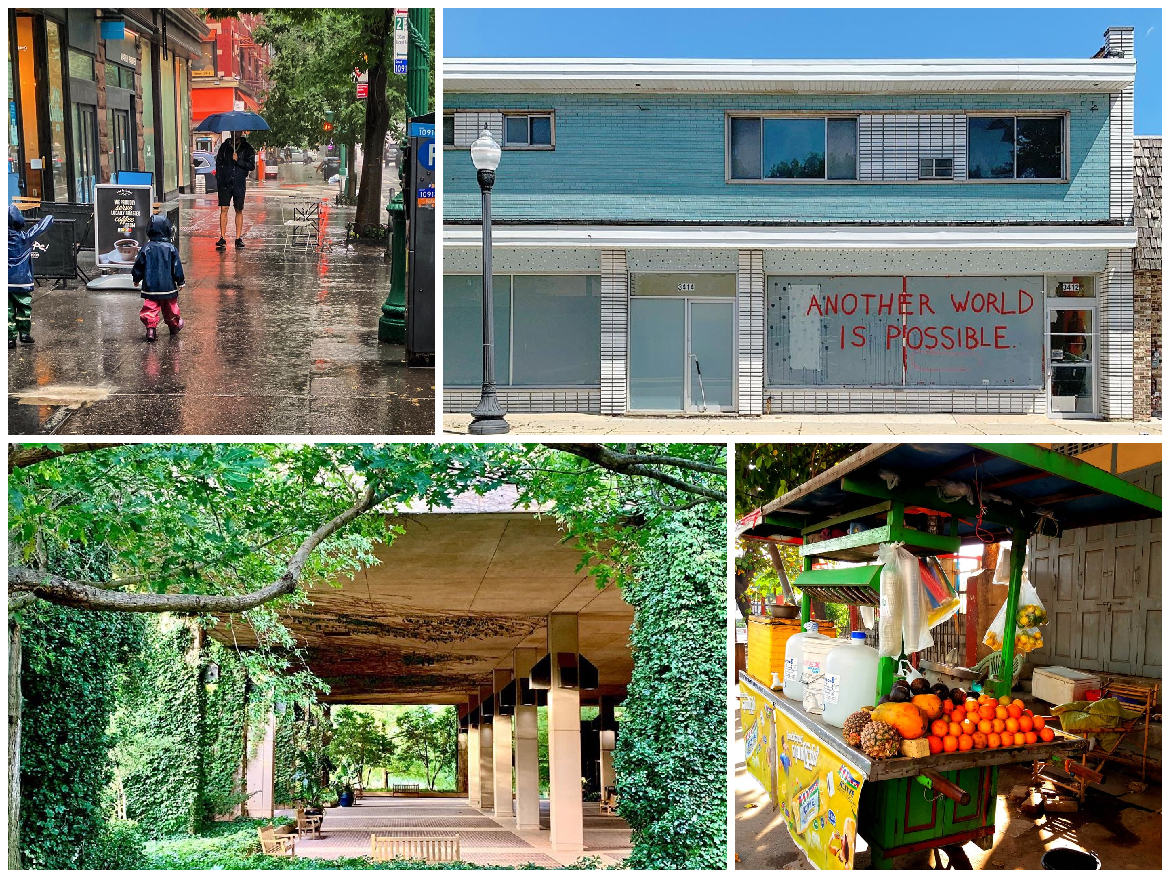 @rznagle watches people play in the rain on New York's Upper West Side; @benvanloon.jpg imagines a better world; @natalieloida basks in the Oklahoma City greenery; @oscar_bragos stops by a fruit vendor in Mandalay, Myanmar
| | |
| --- | --- |
| Follow Us | Get the newsletter |
You received this message because you are subscribed to Bloomberg's CityLab Daily newsletter.
Unsubscribe | Bloomberg.com | Contact Us
Bloomberg L.P. 731 Lexington, New York, NY, 10022