Brussels Edition: Greasing the wheels
Welcome to the Brussels Edition, Bloomberg's daily briefing on what matters most in the heart of the European Union.
The European Commission will today adopt a plan that's meant to grease the wheels of capital markets by reducing regulation. Companies are still reeling from coronavirus lockdowns, and many of them will need help from investors to recover. Relying only on bank loans isn't enough, so officials plan to soften a series of complex rules to make life easier for firms to raise cash. One of the most important changes is intended to increase the supply of analyst research on smaller companies, which dwindled after the introduction of the EU's landmark financial rulebook known as MiFID II.
— Alexander Weber and Nikos Chrysoloras
What's Happening
Network Security | The Commission will also unveil a report on how well member states have implemented the bloc's toolbox to mitigate risks posed by 5G, just as the U.K. and France cut reliance on Huawei. While the EU stopped short of calling for a blanket ban on the Chinese firm, they urged countries not to use risky suppliers for core parts of networks.
Carrying On | The EU and U.K. negotiating teams could barely hide their disappointment at the lack of progress after a full round of discussions in London yesterday, but between the lines it's evident there is movement on some issues. Whether it's enough will become clearer soon, with the next session scheduled for Brussels in mid-August and then an intense period of talks through September. 
Mediterranean Tensions | The other tricky situation which will keep us busy over the summer is tensions in the Mediterranean. France is pushing for more sanctions against Turkey, and Greece is vowing to respond if Ankara sends drilling ships on its continental shelf. Here's our latest dispatch. 
ECB Review | The European Central Bank is restarting its strategic review that will now include a closer look at the impact of fiscal policy in the euro area. Meanwhile, it warned banks haven't sufficiently prepared for reforms to interest-rate benchmarks that underpin assets worth trillions of euros.
Editor's Note: With EU institutions going into summer recess, we're also going to take a break. Unless there's news important enough to ruin our vacation, we'll be back with you late August. Here's our guide to life-changing trips, if you need some inspiration. Or try subscribing here to our daily Supply Lines newsletter, tracking Covid-19's impact on trade which, like the pandemic, isn't taking a holiday. 
In Case You Missed It
Luxembourg's Test | Luxembourg was on the verge of becoming a role model in tackling the pandemic. The EU's richest nation now finds itself blacklisted by several of its neighbors. And like U.S. President Donald Trump, Luxembourgish leaders have found an easy target: the country's ambitious testing program.
Incoming Americans | Ireland is one of the few EU countries that currently allows U.S. tourists. But in a taste of the cool reception that may await Americans when the rest of the EU reopens, bookings in Ireland have been canceled and visitors turned away as locals question the rationale of the policy.
Not Welcome | Unlike Americans, Europeans are free to travel in the continent again. But Amsterdam's mayor is anxiously telling visitors to stay away. Here's why local officials in the Dutch city are in the unusual position of actively trying to keep people from visiting. 
Italexit Party | A Brexit-inspired populist senator has launched an Italian political party committed to pulling the country out of the EU and ditching the euro. Dismissing the bloc as a "Germanic" construct, Gianluigi Paragone is looking to tap into a long-term euroskeptic shift in Italy.
Poland Today | Polish prosecutors charged a manager at a unit of Ikea for firing a worker over anti-gay comments, saying the company infringed on his religious rights. Ikea said last year that it sacked an employee who "used quotes from the Old Testament about death and blood in the context of what fate should meet homosexuals."
Chart of the Day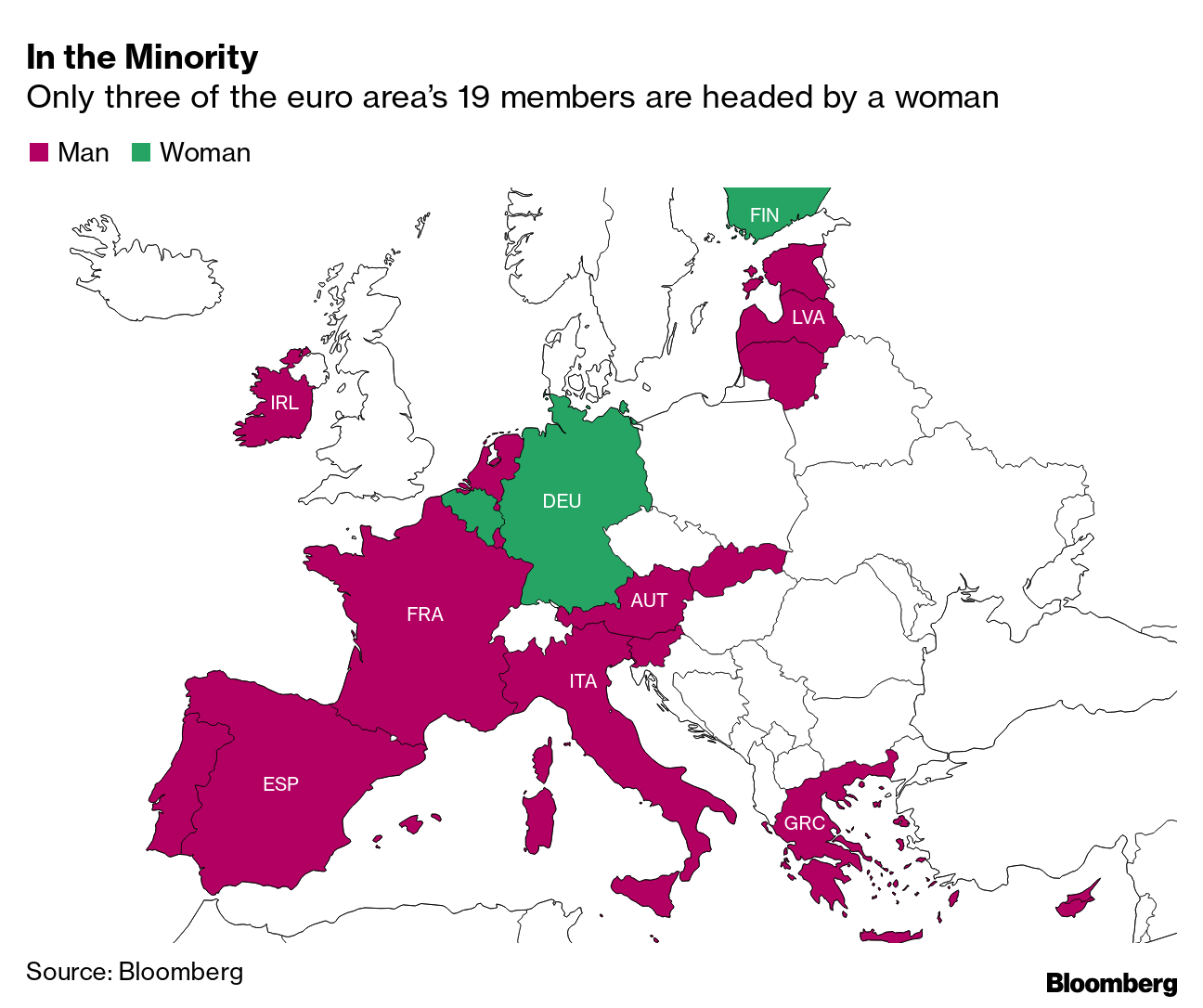 ECB President Lagarde said female leaders proved during the coronavirus crisis that "women tend to do a better job." Even though just three of the euro area's 19 member countries have female leaders, Lagarde herself, Commission President Ursula von der Leyen and German Chancellor Angela Merkel hold arguably the most powerful jobs. 
Today's Agenda
European Commission to unveil capital markets recovery package, a Security Union Strategy, and initiatives to fight child sexual abuse, drugs and firearms
Like the Brussels Edition?
Don't keep it to yourself. Colleagues and friends can sign up here. We also publish the Brexit Bulletin, a daily briefing on the latest on the U.K.'s departure from the EU. 
For even more: Subscribe to Bloomberg All Access for full global news coverage and two in-depth daily newsletters, The Bloomberg Open and The Bloomberg Close.
How are we doing?  We want to hear what you think about this newsletter. Let our Brussels bureau chief know.
Before it's here, it's on the Bloomberg Terminal. Find out more about how the Terminal delivers information and analysis that financial professionals can't find anywhere else. Learn more.
You received this message because you are subscribed to Bloomberg's Brussels Edition newsletter.
Unsubscribe | Bloomberg.com | Contact Us
Bloomberg L.P. 731 Lexington, New York, NY, 10022