Bloomberg Australia: Mountain to climb
Welcome to our weekly newsletter — a fresh, global perspective on the stories that matter for Australian business and politics. This week: The economic challenges ahead, how pension systems worldwide are failing women and the importance of masks.
As Treasurer Josh Frydenberg forecast Australia's biggest budget deficit since World War II, he used an evocative metaphor for the nation's long road to economic recovery.
"We can see the mountain ahead and Australia begins the climb."
But what underpins that image and much of Treasury's forecasting is the rather optimistic assessment that the worst is over. The second wave that's locked down Melbourne and saw Australia record its worst single-day spike in Covid-19 infections suggest the opposite.
Just a couple of months ago, when he announced a three-stage plan to reopen the economy, Prime Minister Scott Morrison envisaged most of us by now would be back in the office, traveling freely between states and getting closer to hopping on a flight to New Zealand.
The reality is depressingly different, as is the avalanche of negative news from elsewhere in the world. U.S. coronavirus cases have surpassed 4 million, doubling over a span of six weeks. Infections worldwide exceed 15.3 million, with more than 626,000 deaths.
Frydenberg's update was crammed with sobering numbers, not least the deficit reaching A$184.5 billion in 2020-21 and unemployment peaking at 9.25%. What the statement lacked was detail on how Australia plans grow its way out of recession and get hundreds of thousands of people back into jobs.
There's a lot of work to do between now and the federal budget on Oct. 6 to help us climb that metaphorical mountain.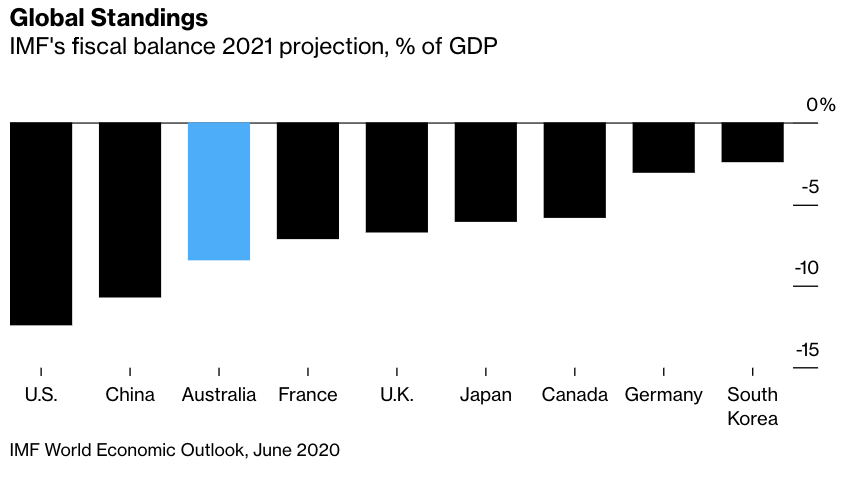 Gender Gap
Even before Covid-19 shuttered economies across the world, many women faced retiring with less savings than men. Now, that gap is set to widen further in some of the world's biggest pension systems.
Women already typically earn less than men and take more time out from the workforce to have children, resulting in diminished pension pots. And as coronavirus lockdowns smash industries such as air travel, tourism, retail and hospitality, they face a disproportionate risk of losing their jobs.
The issue is a further challenge for policymakers who are already grappling with how to provide for ageing populations. Read more here from my colleagues Andreea Papuc and Matthew Burgess.
Mandatory Mask-Wearing
After months of being told masks are of limited use, face coverings are now mandatory for Melbourne's 5 million residents and seen as essential in the fight against Covid-19.
For anyone questioning the new advice, it's worth reading this piece by my colleagues Jason Gale and Ari Altstedter on how people catch the virus.
A cough can disperse virus particles 4 to 5 meters and a sneeze can project them as far as 8 meters away, depending on humidity and temperature. Infection could occur if the droplets drift into the nose, mouth or eye of someone nearby.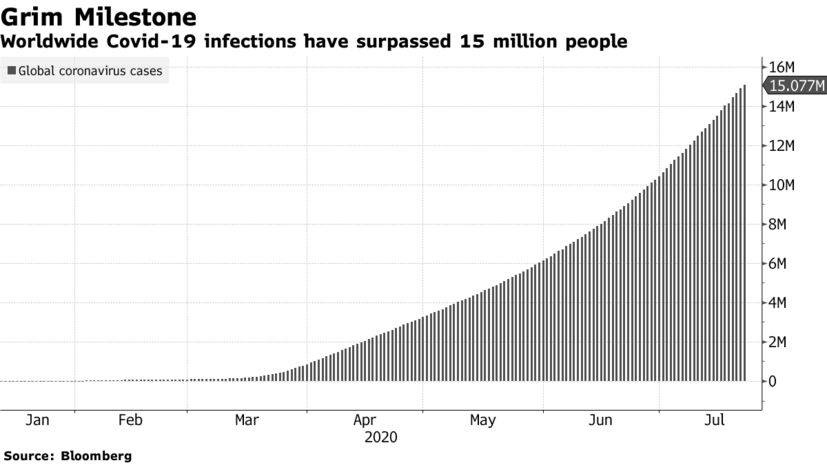 Droplets can also contaminate surfaces when they settle on objects such as doorknobs, with transmission occurring if a hand then comes in contact with the mouth, nose or eyes. The virus can be highly stable in favorable environments, lingering for weeks in near-freezing temperatures. At room temperature, it can survive as long as 24 hours on cardboard, 48 hours on stainless steel, and 72 hours on plastic, one study found.
Definitely required reading for anyone not yet practicing good hand hygiene. —Edward Johnson
What We're Reading 
A few things from around the world that caught our attention:
The best in-depth reporting from Asia and beyond. Sign up to get our weekly roundup in your inbox.
You received this message because you are subscribed to Bloomberg's Bloomberg Australia newsletter.
Unsubscribe | Bloomberg.com | Contact Us
Bloomberg L.P. 731 Lexington, New York, NY, 10022