5 things to start your day
U.S. stimulus plan risks running out of time, China vows retaliation over consulate closure, and Tesla and Microsoft report earnings. 
Tick tock 
The White House and Congress are still divided on the next U.S. stimulus plan with time running out to reach agreement ahead of a scheduled August break for lawmakers and the ending of previous measures. Republicans and the Trump administration have not yet agreed on a proposal, with doubts remaining over the issue of payroll-tax cuts. House Speaker Nancy Pelosi and Senate Minority Leader Chuck Schumer said there can be no real negotiations on bridging the gap -- between the GOP's proposed $1 trillion and Democrats' demand for a much larger package -- until Republicans produce legislative text. President Donald Trump expressed optimism at a White House briefing yesterday, saying that a lot of progress is being made. 
Escalation
Tensions between the world's two largest economies escalated further this morning when the U.S. ordered the closure of China's consulate in Houston. The State Department said that it ordered the closure "to protect American intellectual property and Americans' private information." The move, seen as one of the biggest blows to diplomatic ties between the states in decades, was described by Chinese Foreign Ministry spokesman Wang Wenbin as an "unprecedented escalation." China said it plans to react with "firm countermeasures" with the country's Global Times paper running a poll on Twitter asking people to vote for which U.S. consulate in the country should be closed. 
Earnings
Tesla Inc. which has been riding high in markets in recent months reports results after the bell, with earnings expectations in a huge range while the consensus is for a small loss per share. Should the company turn a profit it would meet a major requirement for inclusion in the S&P 500 Index. Also announcing results today is Microsoft Corp., with analysts expecting the company to have performed well in the stay-at-home economy.  
Markets slip
The escalation of tension between the U.S. and China and increasing doubts a new stimulus package can be agreed soon is hitting investor sentiment. Overnight, the MSCI Asia Pacific Index dropped 0.8% while Japan's Topix index closed 0.6% lower. In Europe, the Stoxx 600 Index was 0.9% lower at 5:50 a.m. Eastern Time as the post-stimulus deal euphoria faded. S&P 500 futures pointed to a drop at the open, the 10-year Treasury yield was at 0.591% and oil was lower. 
Coming up...
Canadian CPI for June at 8:30 a.m. is expected to show a continued rebound in prices. The FHFA May house price index is at 9:00 a.m., with U.S. existing home sales for June at 10:00 a.m. The Senate Banking Committee holds a hearing titled "US-China: Winning the Economic Competition." Crude inventories data is at 10:30 a.m. The Securities and Exchange Commission is expected to approve new rules which will make it harder for activist investors to push for changes to corporate strategy. Earnings season continues. 
What we've been reading
This is what's caught our eye over the last 24 hours.
And finally, here's what Joe's interested in this morning
Yesterday I wrote that the big question for investors is whether 2020 marks the beginning of an era of demand-side reforms to the economy. This would be a reversal of the supply-side reforms -- weakening the power of labor, reducing the welfare state etc. -- that's gone on over the last four decades. All that has brought a boom in asset prices, mediocre wage growth and lower and lower inflation. The new stimulus out of the EU is a sign that perhaps they're building the infrastructure for a more sustained and powerful fiscal policy going forward. The U.S. hasn't made any meaningful, permanent policy changes yet in response to this crisis, but you could argue that the CARES Act was a "proof of concept" of how fiscal policy can boost the real economy. Last week after we got a strong retail sales number, Srinivas Thiruvadanthai of the Jerome Levy Forecasting Center tweeted the following: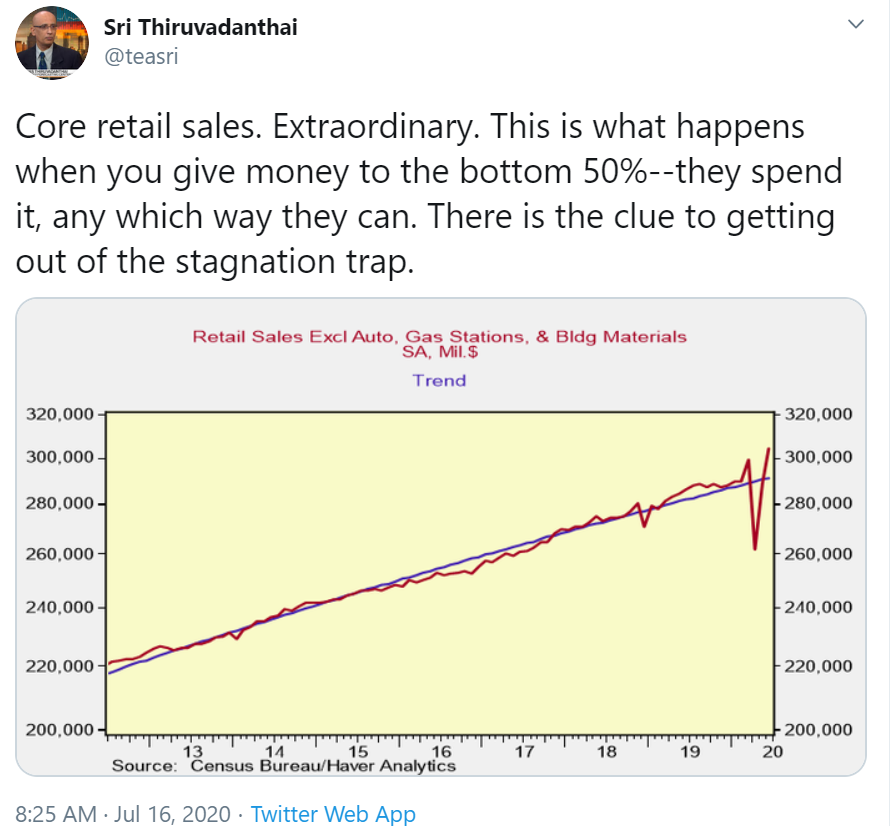 I followed up with him yesterday about what specifically he meant about this being a clue to getting out of the "stagnation trap," and what it could mean for post-crisis economic policy.

As he explained, the key culprit is a series of policies that have made society more unequal over time. "What happens when you think about an economy, where income is becoming more unequal... What happens is the natural tendency of overall consumption to be down." It's not that complicated. As he put it, if you give $100 to Bill Gates, it'll probably get saved. If you give it to the average person, it will likely be spent. So inequality suppresses demand. In his view, our solution in the past to address income inequality has been to "make it up through bubbles", except this can't be sustained and the bubbles burst, people lose their jobs, and the income inequality gets even worse.

As for getting out of the stagnation trap, and really seeing a boom in activity -- one not just driven by bubbles -- he argued for a huge amount of infrastructure, direct grants to hire people, and the creation of apprentice and wage subsidy programs. And not just the same old retraining programs that politicians and business leaders love to talk about after each crisis. Direct money to lower-pay households, and direct subsidy for new job creation.

Ultimately though it'll come down to politics. As we see, it's already proving harder to get a new round of stimulus now than it was in March. "We only get that consensus during extraordinary and crisis like COVID," Thiruvadanthai added. When things are a little bit calm, it's much harder to achieve something new, but that's what has to happen to break these multi-decade trends, and to get a way from only experiencing the good times when we have a bubble.
Joe Weisenthal is an editor at Bloomberg. 
Like Bloomberg's Five Things? Subscribe for unlimited access to trusted, data-based journalism in 120 countries around the world and gain expert analysis from exclusive daily newsletters, The Bloomberg Open and The Bloomberg Close.
Before it's here, it's on the Bloomberg Terminal. Find out more about how the Terminal delivers information and analysis that financial professionals can't find anywhere else. Learn more.
You received this message because you are subscribed to Bloomberg's Five Things newsletter.
Unsubscribe | Bloomberg.com | Contact Us
Bloomberg L.P. 731 Lexington, New York, NY, 10022