"Very good"
The U.S. Trade Representative said he feels "very good" about the progress of the phase-one trade deal with China. Thousands defy Hong Kong law to commemorate Tiananmen Square. And India and China are facing off in the Himalayas. Here are some of the things people in markets are talking about today.
U.S. Trade Representative Robert Lighthizer said he feels "very good" about the progress of the phase-one trade agreement with China. "On the structural changes, China has done a pretty good job," Lighthizer said Thursday during a virtual event held by the Economic Club of New York. "And we've seen significant purchases over the course of the last many weeks." On Monday and Tuesday of this week, China bought $185 million worth of U.S. soybeans, he said, refuting a report that Beijing wasn't living up to its commitments on the commodity purchases. His comments come as tensions between the U.S. and China have escalated in recent weeks, throwing into question the stability of the initial trade agreement. Lighthizer also said the pandemic shows why the U.S. should have an industrial policy to ensure that America can manufacture domestically the supplies it needs, including medical equipment and protective gear.
Thousands gathered in Hong Kong to commemorate victims of China's military crackdown in Tiananmen Square 31 years ago, defying an unprecedented ban on congregating for this year's vigil. People skirted around metal barricades to assemble in Victoria Park — where the annual event is held — with many clustering into small groups to adhere to social distancing rules as of 9 p.m. on Thursday. In the residential area of Sai Ying Pun, scores of people lit candles and chanted slogans outside a subway exit. While the number of people gathering paled in comparison to past years, the assembly was notable because Hong Kong's police had banned the event for the first time. However, concerns are building as the protest movement is running out of cash. Meanwhile, Senator Pat Toomey of Pennsylvania, who's sponsoring legislation to penalize banks that work with Chinese officials moving to crack down on dissent in Hong Kong, said his bill would bring "unprecedented" action to the issue. But not all senators are supportive of the measure. Some are questioning whether unilateral U.S. sanctions would have any effect on the situation in Hong Kong, and might actually backfire. Here's an explainer on the new laws China is pushing for Hong Kong.
Asian stocks looked set for a muted start to Friday trading after a dip in U.S. shares amid concern the recent rally had gone too far. The dollar fell with Treasuries, while futures were flat in Japan, and slipped in Hong Kong and Australia. The S&P 500 Index fell less than half a percentage point, still its biggest drop in two weeks, snapping a four-day winning streak. Treasury yields rose as weekly American jobless claims fell. The euro earlier surged after the European Central Bank announced a bigger than expected boost to its emergency bond-buying program. Elsewhere, West Texas oil was steady amid the long-running feud over compliance with production cutbacks. Gold climbed.
Australia's success in responding to the virus-induced economic crisis won't stave off recession, but the cash has landed in bank accounts, ready to accelerate the recovery. Household bank balances surged through the peak of the Covid-19 lockdown in April from the transfer of government payments and a pullback in spending. Data on jobless Australians seeking welfare benefits suggest recipients received benefits with little delay and the number of jobless Australians seeking welfare benefits looks to have peaked in mid-May, then edged down slightly in the week to May 22. Prime Minister Scott Morrison's government is plowing A$259 billion ($178 billion), or 13.3% of gross domestic product, into the economy. Still, not everything is moving as quickly as anticipated. Sydney's open for business again, but where is everybody?
Indian and Chinese forces are facing off by a glacial lake in the Himalayas that traverses their fluid frontier. The standoff at 14,000 feet (4,270 meters) is the most visible theater of conflict between the world's two most populous nations, but it's far from the only source of friction. Despite the remote location, the military buildup at the un-demarcated border at Pangong Tso lake should not be seen in isolation, but set against the backdrop of Beijing's deteriorating international relations during the coronavirus outbreak. Tensions are flaring as governments from the U.S. to Europe, Japan and Australia move to cut a dependence on China exposed by the pandemic, and India spies an economic opening that it's seeking to exploit. But analysts say Prime Minister Narendra Modi risks stoking tensions with Beijing in siding too closely with Donald Trump at a time when the U.S. president is picking a fight with China. 
What We've Been Reading
This is what's caught our eye over the past 24 hours:
And finally, here's what Tracy's interested in this morning
It's jobs day in the U.S., which means the entire world will be focused on payrolls figures coming out of a single country. Numbers are of course expected to be ugly, again, but did you ever stop and wonder why the everyone is fixated on what happens to the U.S. economy? Obviously it's the world's biggest, but it also holds a place in the global financial system that's uniquely powerful in ways that go beyond size. Well, John Turek, a macro trader who runs a blog called Cheap Convexity, woke up one day and decided to write all about this. His contention is that policymakers have clung to trade-oriented growth even as globalization slowed. That contributed to low economic growth, which led to excess savings (think of the famous Asia savings glut). These excess savings get recycled into "safe" and typically U.S.-dollar denominated financial assets, which boosts the value of the dollar (most of the time). That then pressures the global economy in a way that minimizes growth, and the cycle begins all over again.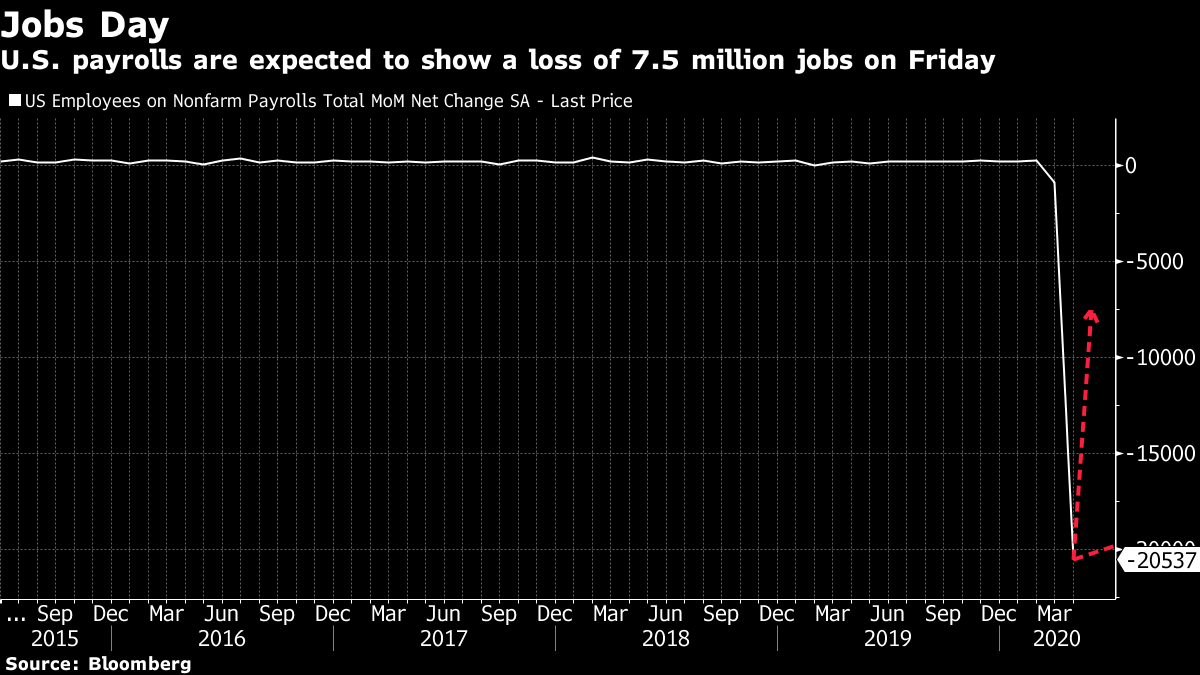 The question, of course, is whether anything can "break" this doom loop and rebalance the economy towards more sustainable growth. It's incredibly hard to stop a cycle of this kind, and the "network effect" of dollar dominance in the financial system. Interestingly, Turek sees a glimmer of possibility in the recent economic crisis. As countries retrench to focus on domestic demand, he says, there's a possibility that this begins to reverse the savings glut. He discusses all of this in an upcoming episode of the Odd Lots podcast, but in the meantime, check out his blog post on the subject.
You can follow Bloomberg's Tracy Alloway at @tracyalloway.
The best in-depth reporting from Asia and beyond. Sign up here to get our weekly roundup in your inbox.
Before it's here, it's on the Bloomberg Terminal. Find out more about how the Terminal delivers information and analysis that financial professionals can't find anywhere else. Learn more.
You received this message because you are subscribed to Bloomberg's Five Things - Asia newsletter.
Unsubscribe | Bloomberg.com | Contact Us
Bloomberg L.P. 731 Lexington, New York, NY, 10022