This time it's airlines
Trump suspends Chinese airline passenger flights into the U.S. British banks back Beijing's Hong Kong security law. And OPEC+ warns members to stop cheating on oil-output quotas. Here are some of the things people in markets are talking about today.
The Trump administration is suspending passenger flights to the U.S. by Chinese airlines, saying it is retaliating after Beijing barred American carriers from re-entering China. The order issued Wednesday takes effect June 16, although President Donald Trump could act sooner if he chooses, the Department of Transportation said. Beijing has prevented U.S. carriers from restarting service to China, while four of its airlines have continued to fly to and from American airports this year. U.S. airlines had asked to resume service as early as June 1. The move is the latest in a long list of U.S.-China frictions over issues including trade, the coronavirus pandemic and the treatment of Hong Kong.
Two British institutions that dominate Hong Kong's banking system — HSBC Holdings Plc and Shanghai Banking Corp. — backed Beijing in the standoff over the proposed new security law that's causing controversy and concern over the former colony's future. British Prime Minister Boris Johnson said he will give as many as three million Hong Kong residents the chance to seek a new life in the U.K. if China presses ahead with the plans. Meanwhile, German Chancellor Angela Merkel and Chinese President Xi Jinping agreed that the pandemic means the upcoming European Union-China summit should be cancelled.
One of Singapore's top political leaders said the city-state faces a "major and urgent challenge" in the next six to 12 months, warning of more job losses ahead amid the coronavirus outbreak. The comments from Tharman Shanmugaratnam came after he chaired the first meeting for a council that included business groups and government leaders to seek new job opportunities to cope with the slowdown. About 100,000 jobs, both permanent and temporary, could be created from that initiative, he said. "But we have to be realistic," the senior minister and coordinating minister for social policies said in a Facebook post. The "sheer uncertainty" in the global economy means "we will have far fewer new job openings than jobs being lost — over the next year, and beyond that if we are unlucky," he said. Singapore's approach to the virus is set to become a defining issue in upcoming elections. Meanwhile, the city is set to ease quarantine travel restrictions on China for business and official trips, as the countries look to revive essential economic activities.
The global stock rally looked set to extend into Thursday as investors clung to optimism for a speedy economic recovery from the pandemic. Treasury yields jumped and the dollar retreated. Equity futures rose in Japan, Hong Kong and Australia. The Nasdaq 100 earlier briefly surpassed its February closing record and banks led the S&P 500 Index to a three-month high. The dollar dropped to its weakest since early March. Gold and Treasuries slumped as investors turned away from havens after U.S. private payrolls showed fewer job losses than forecast in May. Elsewhere, the euro strengthened for a seventh session as data showed the region's economic activity increased in May to the highest in three months. Oil traded close to its at highest level since early March, buoyed by optimism that OPEC+ will rebalance the market.
The leaders of OPEC+ gave fellow members an ultimatum: Stop cheating on oil-output quotas, or the strict measures that have revived oil prices may start to be phased out. Saudi Arabia and Russia have reached a preliminary agreement to extend production curbs for an extra month. But it's conditional on securing new commitments from other members that they will stick to what's agreed and also make up for past non-compliance with additional cuts, according to people familiar with the matter. Their hard-line stance injects greater uncertainty into the oil market, and pushed international crude prices lower on Wednesday, just hours after they rose above $40 a barrel for the first time since the pandemic. Without a new agreement, the group is due to start easing its cuts next month — in line with the landmark deal brokered by President Donald Trump in April that brought an end to the price war. 
What We've Been Reading
This is what's caught our eye over the past 24 hours:
And finally, here's what Tracy's interested in this morning
The streets of Chinese cities used to be full of small-time vendors. In the early 2000s in Beijing, I remember hole-in-the-wall shops hawking everything from snacks to fake DVDs. Many of these businesses were cleaned up in time for the capital to host the Summer Olympics in 2008. In other cities across China, small-time vendors were swept away in an effort to "beautify" the streets. All too often, these vendors occupied a legal grey zone — popular with patrons but not necessarily complying with health and safety standards, much less local governments' views of what a modern Chinese city should look like.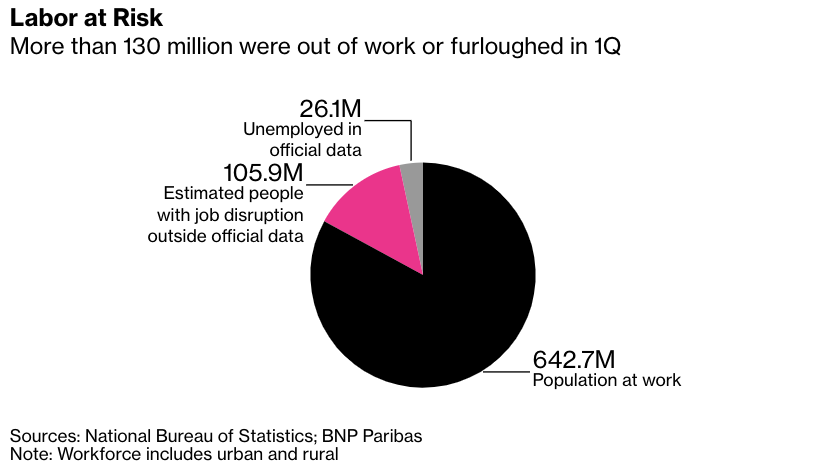 So it's interesting to note that there seem to be rumblings of a reversal of the policy as China grapples with the economic fallout of coronavirus and millions of newly unemployed. The Global Times reports that "China's government may allow street vendors to return and remove road market restrictions in an effort to reboot the economy." Meanwhile, some provincial news sources are publishing infographics explaining how to become street vendors in order to supplement or replace lost income. It's difficult to figure out the exact scale of the jobless problem in China, but initiatives like this suggest it's not insignificant.
You can follow Bloomberg's Tracy Alloway at @tracyalloway.
The best in-depth reporting from Asia and beyond. Sign up here to get our weekly roundup in your inbox.
Before it's here, it's on the Bloomberg Terminal. Find out more about how the Terminal delivers information and analysis that financial professionals can't find anywhere else. Learn more.
You received this message because you are subscribed to Bloomberg's Five Things - Asia newsletter.
Unsubscribe | Bloomberg.com | Contact Us
Bloomberg L.P. 731 Lexington, New York, NY, 10022