Stocks just aren't going to make sense for a while
Follow Us


This is Bloomberg Opinion Today, a stock exchange of Bloomberg Opinion's opinions. Sign up here.
Today's Agenda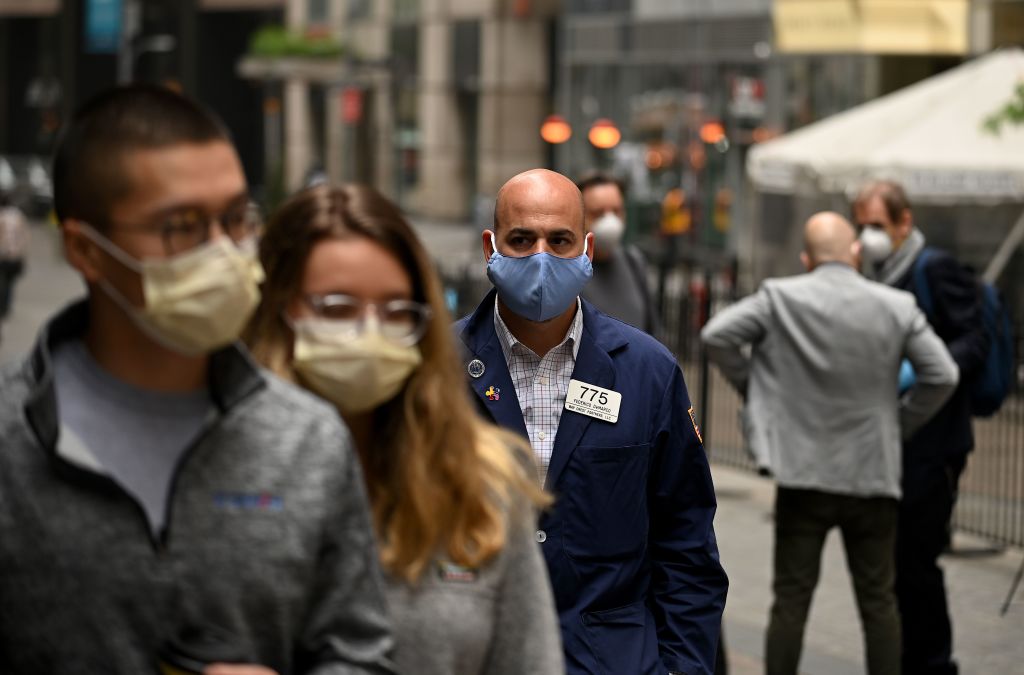 Photographer: Johannes Eisele/AFP/Getty Images
People Are From Earth, Stocks Are From Venus
Hey, have you noticed how everything is basically terrible? No? Then perhaps you are not a person but a stock. And congratulations to you on that.
Because stocks float like a feather in a beautiful world. They're special, so very special. They have been rising more or less relentlessly since bottoming on March 23 — which happens to be the first day people weren't allowed in the New York Stock Exchange for a couple of months. This dismal span has included: 
the absolute worst of the pandemic nightmare;
40 million people losing their jobs;
growing tensions between China and the U.S., which in the ancient times of 2019 would have sent everybody running for the hills; and
all of America's cities being on fire. 
This feels wrong, in a visceral sense, but it's also kind of wrong in a markets sense, writes John Authers. It's based on both an expectation that the Federal Reserve will keep parking its 800-pound keister on interest rates, squashing them indefinitely, without any negative repercussions for banks, and that earnings will skyrocket out of the Mariana Trench relatively soon. Could happen! But everything would have to go absolutely right. And when's the last time that happened?
Then again, betting on financial markets going south in a significant way also feels pretty foolish, given that very large Fed presence. This may frustrate both stock skeptics and bond investors looking for bargains. But too bad, so sad, Bob Michele, chief bond guru at J.P. Morgan Asset Management, explains to Brian Chappatta. The Fed will not expose delicate markets to harsh reality until they are absolutely ready. Which may be never.
Trump's Answer to Violence Is More Violence
After days of doing basically nothing in response to sometimes-violent protests sweeping the nation, President Donald Trump did something, sort of, yesterday. He got military police to clear peaceful protesters from the space in front of the White House, using tear gas, flash bombs and rubber bullets. Then he walked through the empty space to a church, where he held up a bible for a bit, and then walked back. It was all packaged quickly into a campaign-style video.
Did it change any votes? That's doubtful, writes Jonathan Bernstein. It mainly inspired condemnation from religious officials, Democrats and a couple of brave Republicans, along with some social distancing from the Pentagon. It probably scratched some itch for his die-hard followers, but Trump won't win re-election if he can't broaden his base, Jonathan argues. Richard Nixon's "law and order" campaign did that under similar circumstances in 1968; but this isn't 1968, and Trump is no Richard Nixon.
Trump may still be tempted to unleash the U.S. military on protesters across the country, as he keeps threatening. And the 1807 Insurrection Act gives him legal leeway to do so, writes Noah Feldman. Politics and morality may differ. 
Steady On, Brands
A Twitter comedian fooled a bunch of people yesterday with this tweet: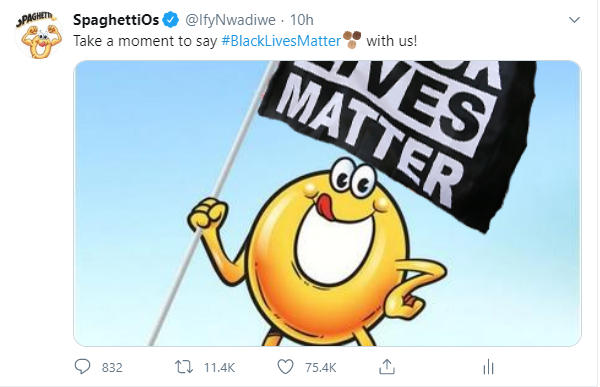 It was believable because brands have done dumb things like this plenty of times during past crises. They've been a little quieter during the latest crisis, which is to their credit, writes Kara Alaimo. The best thing a company can do right now is take care of its own house, and maybe put in some real legwork for social justice, before wading publicly into controversies. The time for that is most likely ... how does never work for you?
Telltale Charts
Markets are giddy about prospects for a coronavirus vaccine, to the benefit of such vaccine makers as Moderna. But it could be a long time before an effective one becomes widely available, writes Max Nisen. In the meantime, there are many potential Covid-19 treatments in the works that could make a vaccine a little less crucial.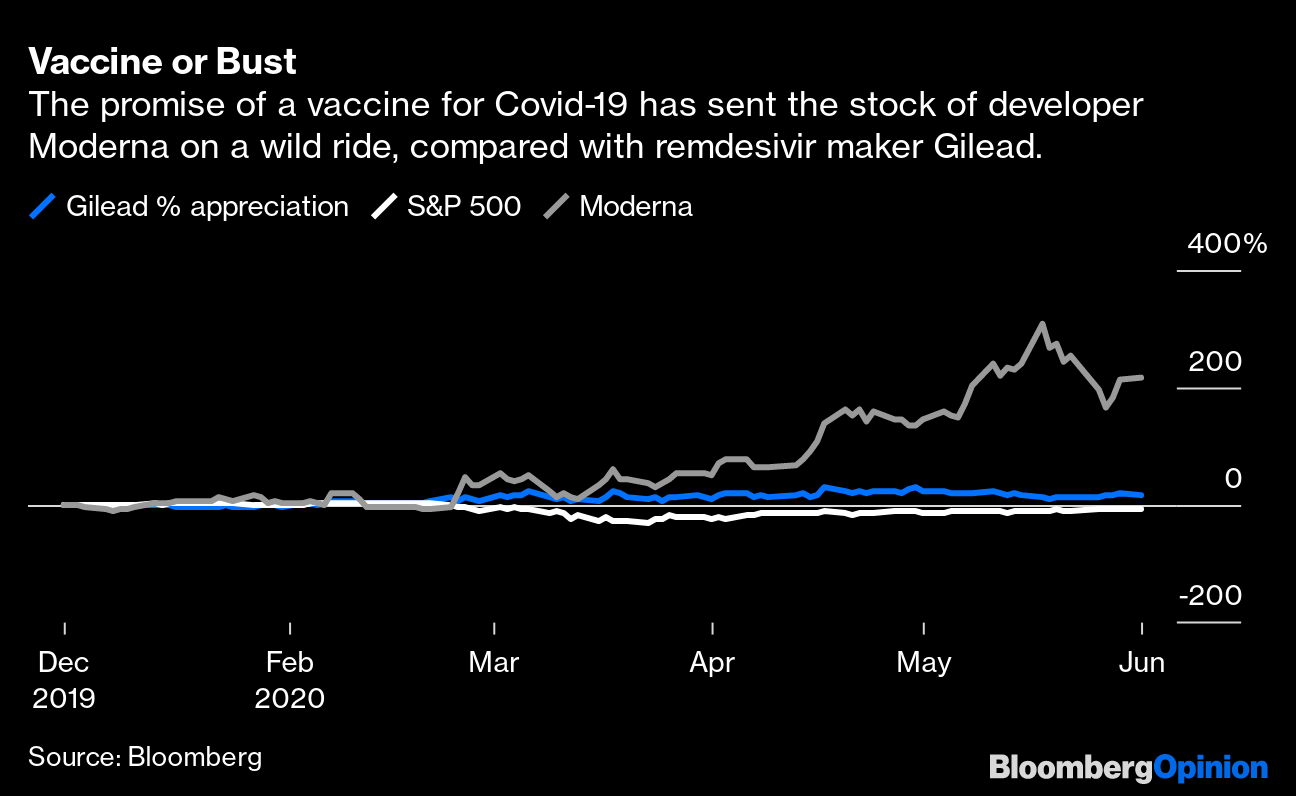 China's threat to slow U.S. soybean purchases won't matter much to American farmers, writes David Fickling.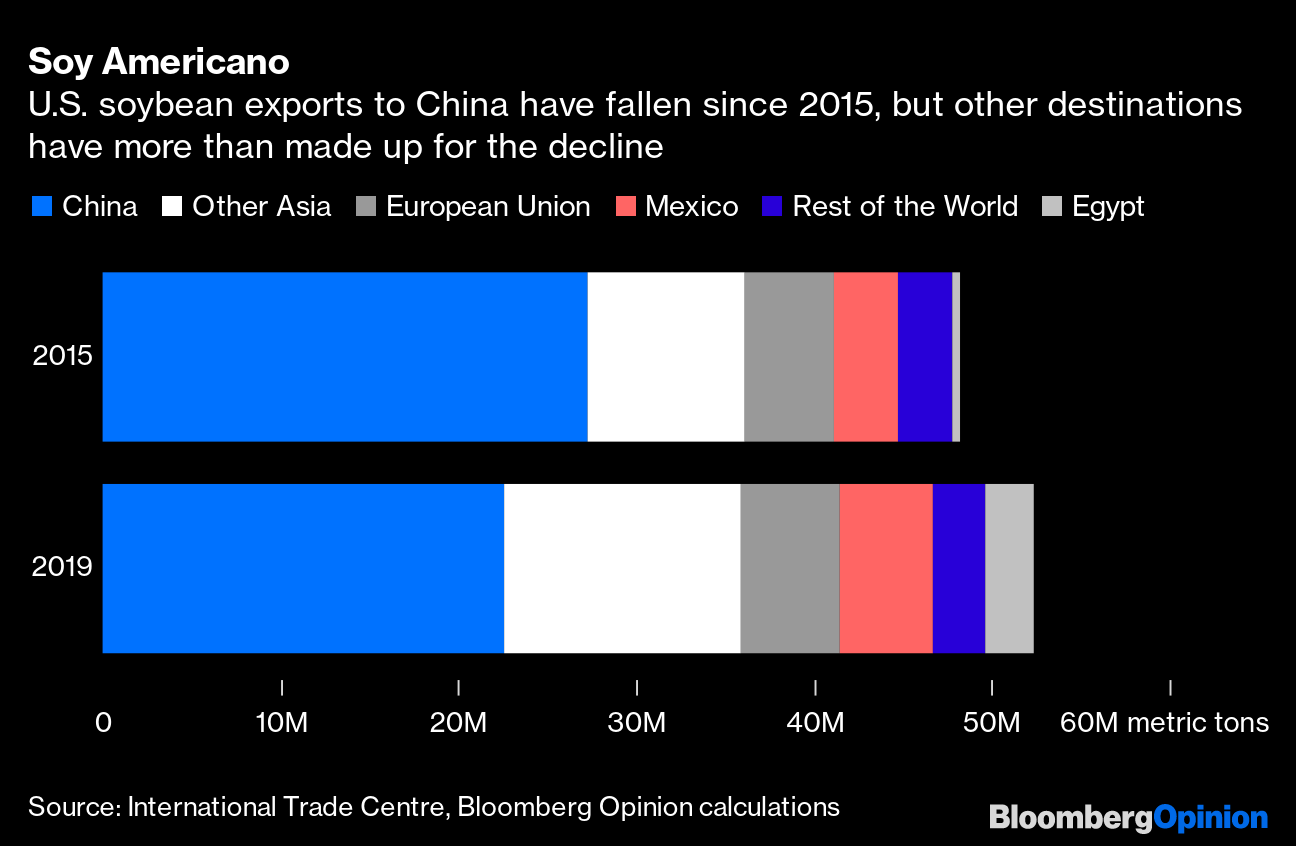 Further Reading
China keeps pushing India ever closer to the U.S., which suits the U.S. just fine. — Hal Brands 
Britain's new quarantine law isn't well-explained, may not be necessary and seems unlikely to survive. — Therese Raphael 
Kylie Jenner may not be a billionaire, and now sales of the lip products that made her rich are plummeting in the mask-wearing age. — Tara Lachapelle 
M&A bargains are hard to find after crises, a new study shows. — Chris Hughes 
ICYMI
A third of U.S. unemployment benefits haven't been paid.
Mark Zuckerberg's call with civil rights leaders didn't go so well.
Solar power will soon cost less than coal.
Kominers's Conundrums Hint
If you're stuck trying to unscramble the names in this week's dinner party puzzle, maybe take a closer look at the letters. Do any of them have a familiar ring? And as to that missing guest: Would adding one more somehow bind the others together? — Scott Duke Kominers
Kickers
New study challenges "collapse" hypothesis of Easter Island. (h/t Scott Kominers)
How to simplify board games for kids.
Our intuition about sea-level rise is wrong.
Note: Please send board games and complaints to Mark Gongloff at mgongloff1@bloomberg.net.
Before it's here, it's on the Bloomberg Terminal. Find out more about how the Terminal delivers information and analysis that financial professionals can't find anywhere else. Learn more.
You received this message because you are subscribed to Bloomberg's Bloomberg Opinion Today newsletter.
Unsubscribe | Bloomberg.com | Contact Us
Bloomberg L.P. 731 Lexington, New York, NY, 10022