Brussels Edition: Merkel's Revolution
Welcome to the Brussels Edition, Bloomberg's daily briefing on what matters most in the heart of the European Union.
Angela Merkel's efforts to broker a 100 billion-euro stimulus package for Germany continue today, as the two sides in the country's ruling coalition struggle to bridge differences. After an initial shot of stimulus and guarantees in March, officials are now focused on trying to bring the economy back from the deepest recession since the aftermath of World War II. While the hurdles are still daunting, what's looking increasingly certain is that after this crisis, Merkel will have ushered in a new era of state-led capitalism until recently unthinkable in Europe's largest economy. 

— Viktoria Dendrinou and Chris Reiter
What's Happening
More Action | ECB officials meet tomorrow with half their emergency bond-buying plan still unused, governments helping to tackle the economic crisis and markets showing relatively little sign of stress. But can they afford to delay action on boosting monetary stimulus until the summer? Economists and investors say: Probably not.
Global Condemnation | The death of an unarmed black man in the U.S. at the hands of police was  an abuse of power, the EU's top diplomat said as officials across the continent voice concern at the unrest. The criticism comes as European diplomats struggle to avoid provoking Donald Trump while reflecting the outrage felt by many of their own citizens. 
Air Corridors | Portugal said it's in advanced talks with Germany over an "air corridor" for tourists and has started discussions with the U.K. as it seeks to attract visitors back to the country. The plans highlight the tricky balance that tourism-reliant nations will need to strike as they try to revive their economies and keep further outbreaks at bay. Germany, meantime, is planning today to announce the easing of European travel restrictions. 

Some Hope | With negotiations this week with the U.K. not looking like they'll result in any breakthrough, the EU is pinning its hopes on convincing Boris Johnson to signal later this month where he could compromise. If he does, it could pave the way to a trade deal later in the year. But that's a big if.
In Case You Missed It
French Way | Closing a factory in France the best of times can test the mettle of an executive, given the country's long record of industrial battles. But Renault may try to do it anyway, despite Emmanuel Macron's twin resolves to save the local car industry and get the pandemic-wrecked economy back on track.
Exceptional Aid | The European Central Bank skewed asset purchases under its new emergency program toward Italy, buying 37.4 billion euros of the country's debt. The numbers underscore the institution's crisis-fighting role and shine a light on how much more flexible the 750 billion-euro crisis program is compared to regular quantitative easing. 
Curbing Big Tech | The EU is weighing new antitrust powers and has kicked off the legislative process for new rules to make platforms more liable for what users post to their sites. The Commission is seeking public feedback on its plans, which could change how tech giants do business.
G-7 Questions | Donald Trump's proposal to invite Russia to a G-7 summit later this year was met with resistance by several members, while the EU's foreign policy chief said the country has failed to earn a return to the group. But they're not the only ones perplexed by the President's intentions. The Kremlin, too, has "more questions than answers" about it.
Chart of the Day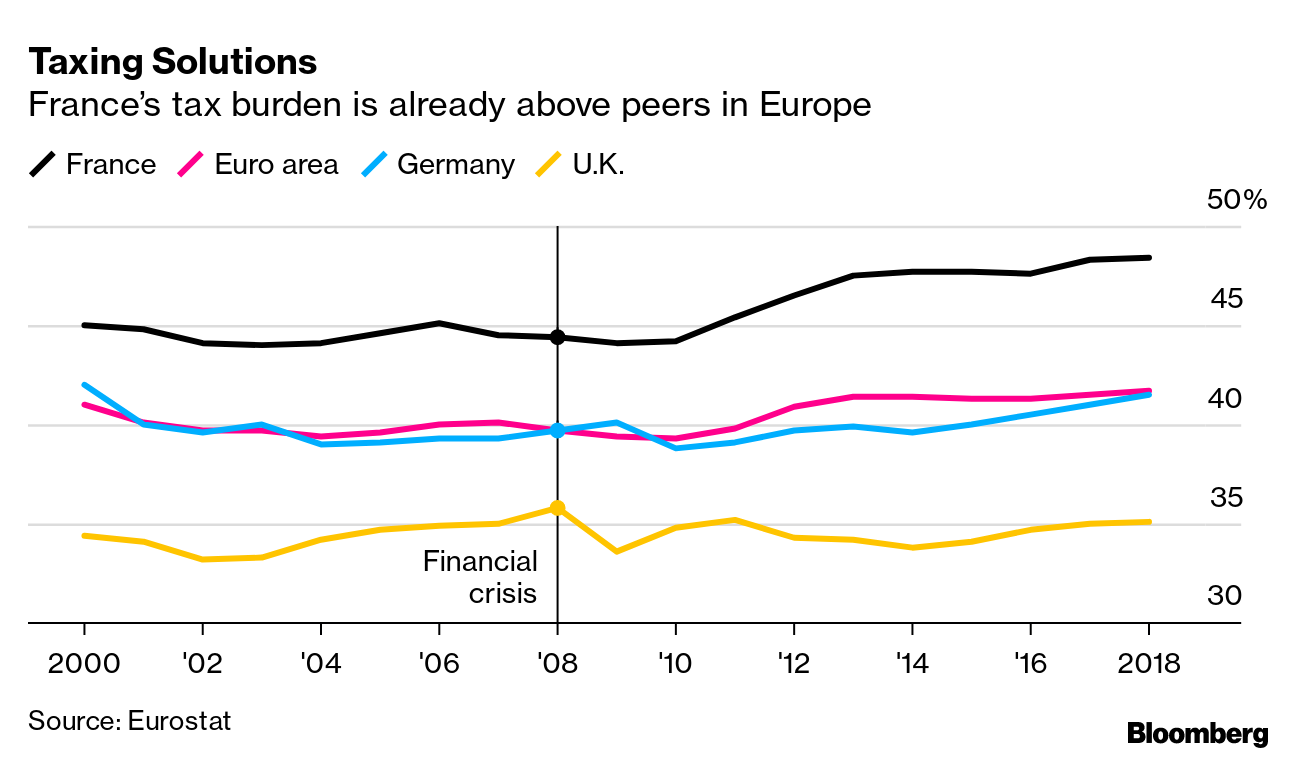 In a rush to reinvent economic and fiscal policy for the post-pandemic world, France is vowing to not repeat history: no tax increases this time, Finance Minister Bruno Le Maire says. With European economies reopening from over two months of shutdowns, governments are grappling with the challenge of accelerating a shaky recovery while drawing plans to pay the bill for the trillions they're spending to protect jobs and companies.
Today's Agenda
All times CET.
EU Justice Commissioner Didier Reynders holds a video call with Twitter Vice President Sinead McSweeney

The EU's top court holds hearing in Bayer AG's final bid to overturn the EU ban on controversial insecticides 

11 a.m. Eurostat to release April unemployment reading

European Commission presents initiative on fair minimum wages
German Cabinet discusses lifting of travel advisories
Like the Brussels Edition?
Don't keep it to yourself. Colleagues and friends can sign up here. We also publish the Brexit Bulletin, a daily briefing on the latest on the U.K.'s departure from the EU. 
For even more: Subscribe to Bloomberg All Access for full global news coverage and two in-depth daily newsletters, The Bloomberg Open and The Bloomberg Close.
How are we doing?  We want to hear what you think about this newsletter. Let our Brussels bureau chief know.
Before it's here, it's on the Bloomberg Terminal. Find out more about how the Terminal delivers information and analysis that financial professionals can't find anywhere else. Learn more.
You received this message because you are subscribed to Bloomberg's Brussels Edition newsletter.
Unsubscribe | Bloomberg.com | Contact Us
Bloomberg L.P. 731 Lexington, New York, NY, 10022